Bespoke garments are made in factory, not by a tailor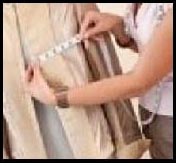 In the early begin of the current decade (around 2002) Indian apparel retail was buzzed with the word 'value retail', and then, retailers here began girding themselves to board in the train of ever changing trends of their customer-gods' preferences. Today, value retailers have 30% market stake in approx $7 bn organised apparel retail. With advent of next decade too, the scenario remains some what similar, wherein these value apparel retailers in particular, by media, are portrayed to be topping their offering cakes with the cherry of 'tailor-retailing'.

The update that value retailers viz Reliance Trends, Reid and Taylor , Vimal, and Jade Blue bet on tailors to speed up growth, set our think tank News team of fibre2fashion, on a survey if this move anyways implies a new trend, i.e. preferences of ready-to-stitch(RTS) taking over ready-to-wear(RTW) is likely to be triggered? And this mission to provide market pulse to our valued readers gave us another opportunity of getting reviews from industry experts and makers. Our findings were interesting as always.

"Given that a large percentage of Indian market is still tailor-made clothing, I see a lot of potential for RTW over the next few years. Ultimately all clothing will become RTW as the availability of tailors and cost of tailoring will become unaffordable as compared to the RTW prices that will keep going down with economy of scale and better manufacturing techniques. Tailor-made will actually become 'custom made' and will cover the most premium and most expensive segment of the market. Even today the bespoke services from brands like Arrow and Raymond are basically trying to wean premium consumers away from the tailor-made. Most of these bespoke garments are made in a factory and not by a tailor," Mr Sahni, MD- Wazir advisors, made a point.

The analyst also opines that the biggest driver for value apparels growth and reduction in tailor-made will be the aggression of value retailers. The players like Koutons have opened the market and proven that there is a much larger market out there that needs to be addressed. However now the market is changing gears and players like Reliance Trends and Bharti Walmart and Big Bazaar will take the lead and grow the market further to cover more and more customer base, he notes.

We also broached up a confirmation from Reliance Trend who have inbuilt tailoring concept to cater new market needs. The Chief Executive of Reliance Trends –Mr Arun Sirdeshmukh nodded in denial when asked if he sees any trace of RTW being diverted to RTS concept. He clarified, "the branded apparel consumers from metros prefer readymade, so in our store 90% of the space is allocated to readymade. And this trend will continue at least for the next decade. "

"The fact-findings also show that 60% of consumers in India who tailor their clothes are from smaller towns. Why would retailers not think of catering to those customers, also then?"- explaining details he interrogated in affirmation.