Leading apparel sizing guru to tackle 'two-way' fashion highway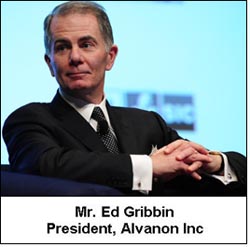 The world's leading apparel fit expert, Alvanon, has announced that Ed Gribbin, the recently appointed president of Alvanon Inc, will be presenting at the 66th All India Textile Conference at Nimhans Convention Hall in Bangalore on 28th and 29th January 2011.

Ed Gribbin's presentation entitled 'Building the Best Two-Way Fashion Highway' will prepare global brands for serving India's rapidly expanding and increasingly sophisticated consumer base, as well as orienting Indian brands for entering western markets. In addition to speaking at the conference, Alvanon will be sponsoring the afternoon networking session and displaying some of its latest 'fit' form innovations.

In his conference presentation Ed Gribbin will explain how global fashion brands can break into India's incredible growth potential in all apparel segments from high end luxury through to high street and volume products. He will also show how Indian brands are emerging on the world fashion stage to deliver new fashion perspectives to European, North American and Asian consumers.

As Ed Gribbin explained: "Understanding the tastes, needs, desires and attitudes of consumers along with their diverse physical attributes and shapes, is crucial in helping brands achieve their global business goals. Drawing on actual case studies I will explain how Alvanon has helped many US and European brands target and engage Asian consumers, in addition to assisting Asian brands achieve a better understanding of how to serve western consumers." He added: "I hope my presentation will show delegates how research into people, cultures and tastes enable both global and Indian suppliers to succeed and find profitable avenues for future growth."

Ed Gribbin was recently appointed president of Alvanon Inc following three successful years as president of the group's strategic business consultancy. He has over 30 years experience in the international fashion industry and is widely recognised as the world's leading authority on apparel sizing and fit.

Under Ed Gribbin's management Alvanon has compiled and has exclusive access to the world's largest database of over 300,000 body scans. Prior to Alvanon, he was president of Intellifit Corporation where he oversaw the collection of over 120,000 body shape scans for men, women and children in the US, Japan and Europe; the data from which is now utilised by Alvanon. Ed Gribbin was also the co-inventor of the revolutionary Intellifit System, the first body scanner capable of collecting body scan data from fully clothed people.

The 66th All India Textile Conference is being hosted by the Karnataka chapter of the Textile Association (India) and will be attended by global brands and retailers interested in importing into India and Indian suppliers exporting into western markets.

Through its three integrated divisions, AlvaInsight, AlvaForm and AlvaBlock, Alvanon offers practical solutions that enable its clients to achieve fit consistently and continuously from design through to consumer. AlvaInsight is its 'front end' strategic division comprising fashion and retail industry experts.