Burberry delivers 30% increase in revenue in Q3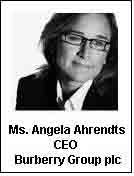 Burberry Group plc, the global luxury company, reports on trading for the three months to 31 December 2010.

Highlights

• Total revenue up 27% underlying (up 30% reported)
o Strong consumer demand in both retail and wholesale
o Consistent double-digit growth across all product divisions
o Double-digit comp growth across the Americas, Asia Pacific and Europe

• Retail sales up 36% underlying (up 40% reported)
o Comparable store sales growth of 14%
o Acquired stores in China comp up over 30%
o Outerwear and large leather goods drove about half of growth

• Wholesale revenue up 15% underlying (up 15% reported)
o Up 35% underlying excluding China
o Second half underlying revenue now expected up high teens % excluding China
o Revenue upgrade of over £10m evenly split between Americas, Asia Pacific and Europe
o Strong consumer demand leading to higher in-season orders

• Further strategic and operational progress
o Seven mainline stores opened, including São Paulo, Brazil and Puebla, Mexico
o Rapid integration of Chinese operations on track
o Digitally advanced flagship opened in Beijing
o More dynamic replenishment capabilities supported growth

Angela Ahrendts, Chief Executive Officer, commented:
"The Burberry team delivered a 30% increase in revenue in the third quarter, with strong, consistent growth in both retail and wholesale and in every product division and region. As a result, we now expect adjusted profit before tax for the current financial year to be at the top end of market expectations. Ongoing initiatives in retail, digital, product development and new markets underpin our confidence in the future."

Retail
Retail sales in the third quarter increased by 36% on an underlying basis (up 40% at reported FX). New space generated 8% of this underlying growth, while China, which transferred from wholesale to retail on 1 September 2010, contributed a further 14%.

Comparable store sales in the third quarter grew by 14%, with mainline stores significantly outperforming. The Americas, Asia Pacific and Europe all delivered double-digit comparable store sales growth, with particular strength in the UK, France, Hong Kong and Taiwan. Comparable store sales growth in China was over 30% in the acquired stores. These Chinese sales were not included in Burberry's 14% comparable growth for the quarter.

In mainline retail, all four product divisions (non-apparel, women's, men's and children's) delivered strong, consistent growth, with outperformance from Prorsum, shoes, small leather goods and men's accessories. Helped by improved replenishment capabilities, outerwear and large leather goods again accounted for about half of the growth. This mix benefit contributed to a further increase in average price per unit sold.

During the third quarter, Burberry opened seven mainline stores, including São Paulo, Brazil; Puebla, Mexico; the first Brit store in Europe in Milan; and a flagship store in Beijing, showcasing its most advanced digital in-store technology. For the second half, average selling space is expected to increase by about 25% as previously guided. About 15% of this is in China (both acquired stores and new openings), with the balance of about 10% across other regions.