Haglöfs to unveil GORE-TEX Active Shell based Endo jacket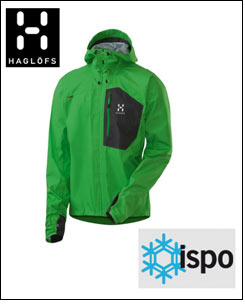 Haglöfs will showcase its Endo jacket at ispo. When there isn't one detail you could take away, you've created the perfect product. This approach has always been central to the Haglöfs design philosophy – everything is there for a reason and all the details have a clear and distinct function. And this was also the philosophy behind the development of the Endo Jacket.

Ispo will take place in Munich, Germany during February 6 – 9.

For winter 2011, Haglöfs is launching the Endo Jacket – a highly technical jacket for high-pulse activities. The Endo jacket has outstanding breathability properties, a low weight and low packing volume and is fully waterproof. The jacket is available in men's and women's versions with matching trousers – the Endo Pant.

The Endo Jacket is based on GORE-TEX Active Shell – a revolutionary material which has brought a new dimension to the design and development of outdoor clothing. Active Shell is a 3-layer GORE-TEX fabric in which the membrane is bonded using an alternative laminating method. The membrane is also much thinner than other membranes. It produces a very light material with excellent breathability properties and next-toskin comfort.

"With Active Shell, Gore has really come up with a major innovation," Neil Bradley, Business Area Manager for Haglöfs Clothing. "People used to take a GORE-TEX jacket with them as a spare in case the weather turned against them, but now they can wear the same jacket all the time in any weather conditions. With Active Shell, we can create products that have the very properties the serious outdoor enthusiast wants."

The Endo Jacket's combination of waterproofness and breathability means it can be kept on even when the rain has stopped. The jacket's light weight and comfortable fit also help the user achieve maximum performance. And the same is also true of the Endo Pant.

An important part of Haglöfs' vision is to position the brand as a leader in sustainability. However, efforts go far beyond developing high-quality, long-lasting products. Haglöfs addresses sustainability issues as a natural and integral part of its day-to-day business.

Haglöfs is committed to contributing towards a long-term sustainable society by acting in a socially responsible manner and offering products that are produced in an ethical and environmentally sustainable way. Haglöfs is aware that its business operations have both positive and negative effects on the world around us, and that it is important to keep the negative effects to a minimum.

"Responsibility has been incorporated into our way of thinking for many years," says Lennart Ekberg, Director of Sustainability at Haglöfs. "The idea is that we take responsibility for things we can have a direct influence on and impose rigorous demands on those we work with. Ultimately, it's all about our own trustworthiness."

Sustainable products
It is Haglöfs' goal to minimize the environmental impact of each product by developing high-quality, longlasting products, establishing a sustainable production process and increasing the proportion of materials manufactured in a process that has a minimal environmental impact.