Dong Jin, Tweave & ITM premier new collections at ORWM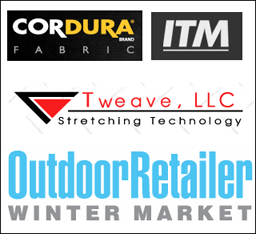 INVISTA's CORDURA brand team and participating mills will debut their latest collections of CORDURA fabric technologies at the 2011 Outdoor Retailer Winter Market trade show in Salt Lake City, Utah, from Thursday, Jan. 20 to Sunday, Jan. 23.

The showcased innovative fabric collections were developed by Korean-based Dong Jin, an authorized CORDURA fabric mill for more than 20 years; Massachusetts-based Tweave, LLC fabric mill an authorized CORDURA fabric mill for more than 15 years; and Brazil-based Industrias Texteis Milagre (ITM), an authorized CORDURA fabric mill since 2003.

"INVISTA's CORDURA brand team is excited to work with our authorized CORDURA fabric mills to offer a number of innovative durable fabric technologies," said Cindy McNaull, global CORDURA brand and marketing director. "We are thrilled to debut these diverse fabric offerings to the winter lifestyle and outdoor industries."

Details on the exciting new fabric collections are as follows:

Dong Jin International Corporation:
• 315/500D BOX-RIP CORDURA fabric – Based on INVISTA's 315D 'air bag' fiber technology and in combination with 500D CORDURA Classic fabric technology, this hybrid fabric offers light weight strength and exceptional durability for bag, pack, and accessory applications.

Tweave, LLC:
Stretch CORDURA Classic fabrics – Tweave, LLC will showcase five new stretch offerings (styles 520X, 1013SC, 1013C, R&D #145 and R&D #146) based on 330D, 500D and 1000D CORDURA Classic fabric technology in combination with spandex and LYCRA fibers. Targeted at the performance apparel, footwear, and hard goods markets, these stretch CORDURA Classic fabrics add a rugged durable performance component to the Tweave, LLC styles and offer exceptional tear and abrasion resistance, as well as long-lasting durability.

Industrias Texteis Milagre:
The SUPERFAB 4507 collection featuring CORDURA Classic fabric technology offers a high level of resistance for abrasions, water penetration, and perforation – all tested and approved according to EN ISO 13595-1 (Impact Abrasion Resistance), Satra TM 77/1992 (Water Penetration Resistance) and EN 388 (Perforation Resistance). SUPERFAB 4507 is a tough yet flexible textile designed to bring ergonomic support when used in both the shaft and tongue of boot paneling. SUPERFAB 4507 utilizes INVISTA's nylon 6,6-based CORDURA Classic fabric technology and is targeted for outdoor, military and motorcycle footwear applications.

The new fabric collections will be on display at the Outdoor Retailer Winter Market tradeshow in Salt Lake City, Utah, from Thursday, Jan. 20 to Sunday, Jan. 23. Stop by the CORDURA brand booth (#39210) for a first-hand look and to make appointments with our authorized mills.

Dong Jin International Corporation is a specialized manufacturer with the vertical manufacturing capabilities of yarn spinning, weaving, dyeing, finishing and coating CORDURA fabrics,plus nylon and polyester oxfords. Since opening its first mill in 1979, Dong Jin International Corporation has established branch offices in Seoul, Hong Kong and Los Angeles. The company's broad geographic presence has helped to reinforce sales competitiveness within the global market and increase supply chain support for international brands such as INVISTA's CORDURA brand fabric.