Jedidiah's t-shirt line to support anti-trafficking work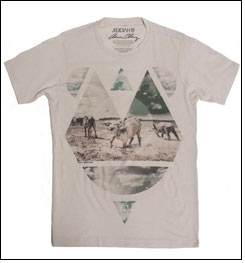 World-renowned surf photographer, Aaron Chang and surf apparel line Jedidiah, will launch a joint collection of T-shirts featuring Chang's photography at an exhibit this Saturday at Chang's gallery in Solana Beach. Proceeds from the sales of the shirts all season, as well as from the sale of Chang's prints at the event, will benefit World Vision's recovery work with children freed from the commercial sex trade in Cambodia.

The show was inspired by Chang's 2010 trip to Cambodia with Jedidiah CEO Kevin Murray, where the pair met with World Vision staff who work daily to help girls exploited by the commercial sex trade recover from their experiences and begin to build new lives for themselves.

"Millions of children have their innocence stolen through sexual exploitation," said World Vision's Keith Kall. "No child should ever have to experience that trauma. Aaron Chang and Kevin Murray's passion to see that innocence restored is inspirational and is reflected in the art – through photography and fashion – that they produce. World Vision is grateful for their investment in these children."

The show entitled Cambodia: Ray of Hope, will take place Saturday, Feb. 5, from 6 p.m. to 9 p.m. at the Aaron Chang Ocean Art Gallery, 415 S. Cedros Ave., Suite 110 in the Cedros Design District. The show is open to the public and will feature a special Limited Edition collection of photographs from Chang's trip to Cambodia with the Jedidiah team, as well as the collaborative clothing collection.

Additionally, collaborative art pieces will be on display by Scott Hancock and Wade Koniakowsky. Professional soprano Barbara Tobler will perform during the event. Digital 1 Color and Artware Framing have generously agreed to donate all prints and frames for the show.

World Vision U.S.