New GORE-TEX Active Shell Laminate for A/W 2011/12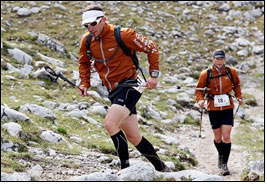 With the launch of its new GORE-TEX Active Shell Laminate for autumn/winter 2011/2012 collections, W.L. Gore & Associates, leader in the market for high performance garments, continues to set new standards. Featuring a streamlined 3-layer construction, this new class of waterproof and windproof garment delivers extreme breathability and excellent next-to-skin comfort for all year round outdoor use.

All-weather fast-forward athletes such as trail runners, mountain bikers and speed ascent fanatics can now complete their done-in-a-day activities in lightweight garments with advanced moisture management, without compromising on durable waterproof protection The GORE-TEX Active Shell laminate offerings are set to be extended further for the summer 2012 collections.

Today, time is one of our most precious commodities. In an attempt to make the most effective use of their time many outdoor enthusiasts have become more athletic and faster than ever before. Instead of hiking in the mountains they run up mountains and along trails. Climbing has turned into speed climbing, mountaineering is done after work, haute route tours are done in four days rather than six, and Transalp tours have become Speed Transalp tours.

As well as expecting more of themselves, these athletes also have increasingly high expectations of their clothing. There is a growing demand for extremely lightweight, minimalist outdoor apparel where every gram counts and where outstanding functionality is partnered by an attractive, sporty look. American functional specialist W.L. Gore has now brought a new, never before seen level of comfort performance into the world of waterproof apparel.

Gore has succeeded in producing a good-looking product for outdoor fast forward athletes in which key functional features such as extreme breathability and light weight unite with the comfort of guaranteed durable waterproof protection. Athletes remain warm and dry – even when they get caught in unexpected rain or a sudden cold snap.

This has been made possible thanks to the new GORE-TEX Active Shell laminates. They combine a lighter, thinner GORE-TEX membrane with fine denier performance textiles to deliver the ultimate 3-layer solution for the active consumer. On the liner side, a completely new, never seen before lamination technology integrates the backer textile directly into the GORE-TEX membrane allowing for extreme breathability (RET<3) and="" excellent="" next="" to="" skin="" comfort.="" sweat="" is="" very="" quickly="" conveyed="" away="" from="" the="" skin="" and="" transported="" out="" through="" the="" textile="" in="" the="" form="" of="" water="" vapour,="" while="" moisture="" produced="" by="" rain,="" snow="" and="" wind="" has="" no="" chance="" of="" penetrating.="" these="" outstanding="" moisture="" management="" capabilities="" ensure="" optimum="" body="" climate="" control="" for="" maximum="" sports="">3)>

Minimalist, compact design means maximum breathability and lighter weights: Gore works closely with the manufacturers' designers to ensure that the intended lightweight and highly breathable garments (jackets, short-sleeved jackets and short-length trousers) are produced from the highly functional, durably waterproof GORE-TEX Active Shell laminates without any superfluous features. By means of a most exceptional new product, an exclusive lamination technology and a comfort based approach to garment design Gore is able to guarantee the outstanding performance of the end product.