Marvel teams up with NBA on new merchandise line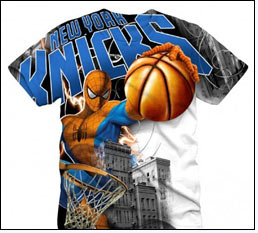 Marvel Entertainment LLC and the National Basketball Association announced a collaboration to launch an exclusive collection of co-branded merchandise featuring NBA team logos alongside some of the most renowned Super Heroes in the Marvel Universe.

We sat down with Michael Jerchower, Marvel's Director of Licensing, to get some additinoal info and background on this colossal collaboration.

"Co-branding is an important part of Marvel's consumer products licensing strategy," Jerchower explained. "It allows Marvel to expand into new channels of distribution. As examples, we have co-branded product with Harley Davidson, Reebok, NYPD and FDNY. Sports is a key area where we saw a huge connection. The NBA is all about tremendous athleticism and super hero-type abilities on the court. This ties directly to the powers of our characters.

"The Marvel Consumer Products team contacted the NBA in early summer 2010 about establishing a co-branded partnership," Jerchower said. "The goal was to identify a few key categoriees that we would jump start the merchandise program with, and we are leading off with apparel from C-Life and headwear from New Era. The co-branded merchandise will make a big splash at the NBA's upcoming All-Star game at the Staples Center in Los Angeles.

"NBA-Marvel co-branded product provides Marvel the opportunity to gain access into the sporting goods channels and NBA arena stores," Jerchower added. "For the NBA, partnering with Marvel allowed them to tie into a premiere entertainment property with a similar age fanbase. A five-year-old going to a Knicks game may not have developed an assocation yet with the team, but if he sees Spider-Man in Knicks colors on a t-shirt, that's a slam dunk, must-have for him."

Also, you can be sure to expect some surprises, too, from the partnership!

"To generate a greater connection between Marvel characters and NBA teams, we have permitted the licensees to change the characters' costume colors to the colors of the respective NBA teams," noted Jerchower.

"Certain Marvel characters make total sense for a specific team. Peter Parker is a New York guy. It made sense for our licensees to feature Spider-Man with the New York Knicks. Because the Hulk is green and green is the primary color of the Boston Celtics, this combination makes a perfect match. Our hat and t-shirt licensees are offering retailers and NBA teams two types of designs that they can select from: A singular character, such as Spider-Man and the Knicks, or a Marvel Heroes montage featuring four or five of our most popular characters that are major parts of our upcoming movie lineup: Iron Man, Captain America, Thor, Spider-Man and Wolverine."

Modell's and Madison Square Garden will launch the New York collection and the STAPLES Center will be the first destination for L.A. Lakers co-branded merchandise to debut at the NBA All-Star game on February 20, 2011. The products will then be made available in other national and regional sporting goods retailers, specialty stores, additional NBA arena stores and mid-tier channels sports apparel departments.