PUMA's gross profit margin softens due to shift in sourcing costs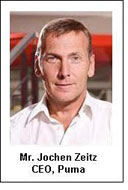 PUMA AG announces its Consolidated Financial Results for the Fourth Quarter and Financial Year 2010.

Highlights Fourth Quarter 2010:

• Consolidated sales increased by 28.2% to € 623 million, posting record sales
• Gross profit margin softened to 45.4% due to shift in regional mix, hedging, and sourcing prices
• Operating result before special items increased by 2.6% to € 41.1 million
• EPS improved to € 0.93
• PUMA's "Back on the Attack" plan presented in October outlined the company's future growth strategy

Highlights January – December 2010:

• Consolidated sales increased by 10.6% in Euro terms to more than € 2.7 billion for the first time
• Gross profit margin stood strong at 49.7%
• Operating result before special items improved by 12.7% to € 337.8 million
• EBT more than doubled to € 301.5 million
• Net earnings improved by 154.0% to € 202.2 million
• EPS increased significantly to € 13.45 from € 5.28 last year
• Balance sheet ratios and cash position remained strong

Outlook 2011:

• Despite a lack of major sporting events in 2011, Management expects sales to increase by mid to high single-digits for the full year.
• Due to investments in marketing, product and process optimization that are part of our "Back on the attack" strategy, management expects the OPEX ratio to increase.
• Net Earnings expected to improve by mid single-digits assuming a modest increase in sourcing costs related to raw materials and wages.

Jochen Zeitz, CEO: "We finished the year with record sales in a strong quarter, contributing to an overall solid sales and operational performance in 2010, which clearly demonstrates the strength of our brand and company in an improving consumer environment. I am pleased to see that our sales outlook also continues to look positive and that PUMA's organic growth is more than intact. We are well positioned to tap into PUMA's full brand potential with our strategic five-year company growth plan. Our focus will now be to develop and grow our existing core product categories as well as PUMA's key strategic markets, and to invest in marketing and R&D while continuing to boost our sales globally."

The Year 2010

PUMA is back on the attack! In the past financial year 2010, PUMA posted a new record in sales and managed to increase profitability accordingly. Hence, PUMA has successfully overcome the economic crisis and has laid the foundation to achieve the growth targets defined for the coming years.

The football World Cup on the African continent, where PUMA sponsored seven of the participating teams, of which four were African teams, proved to be a particular highlight for the PUMA brand in 2010. Furthermore, the Company celebrated the extension of the sponsoring agreement with Usain Bolt, and also witnessed Sebastian Vettel being crowned as the youngest world champion in the history of Formula One. Sebastian Vettel belongs to the Red Bull racing team, which was sponsored by PUMA.