PVH Storybook shows kids style for spring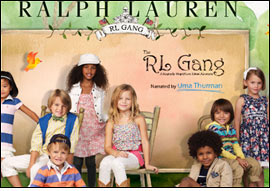 This spring, Polo Ralph Lauren expands its shoppable children's online storybook collection with the introduction of TheRL Gang: A Magically Magnificent School Adventure. Showcasing Ralph Lauren Childrenswear Spring 2011 collection, the new RL Gang video is narrated by award-winning actress and mother Uma Thurman, and launches globally March 3 on RalphLauren.com/RLGang and Bloomingdales.com/RLGang, and March 31 on TheBay.com/RLGang.

In celebration of the launch, Polo Ralph Lauren is hosting an international search for one lucky child to be cast in an upcoming installment of the RL Gang. The contest, which will live on the RL Gang tab on Ralph Lauren's Facebook page, will allow parents in the US and UK to upload a photo of their child and share that photo with friends and family, asking them to vote for their child. The winning child will be chosen from the group of children with the most votes, flown to New York and cast as a member of the RL Gang!

"We are raising the bar by expanding the retail environment to new platforms," said David Lauren, Executive Vice President of Advertising, Marketing and Corporate Communications. "By delivering a best-in-class virtual shopping experience to both parents and their children, our customers can discover their style in a way that is engaging, informative and entertaining."

The new storybook unveils each character's personality through their individual sense of style by showcasing 17 new looks from the spring collection. If a customer likes a certain outfit, they can choose to view that character's "virtual closet" to shop similar looks.

As Polo Ralph Lauren is dedicated to children everywhere and the preservation of the arts and education, the Company will donate 15% of all proceeds from the first month of sales of the Childrenswear Spring 2011 collection on RalphLauren.com to Room to Grow--a charitable organization chosen by Uma Thurman. Room to Grow is an innovative program which provides parents raising babies in poverty with one-on-one parenting support and essential baby items throughout their children's critical first three years of development.

"Polo Ralph Lauren is committed to bettering the lives of children in need and I'm thrilled to partner with them in supporting Room to Grow - an organization that is very dear to my heart," said Uma Thurman. "I love being able to help another mother who has the same aspirations for her children as I do, but simply does not have the resources."

Polo Ralph Lauren has again partnered with Tikatok.com, the award-winning children's publishing platform owned by Barnes & Noble, to produce the printed hardcover storybook version of The RL Gang. The book will be available beginning March 3 for $16.95 and can be purchased on Barnes & Noble.com and at select Ralph Lauren stores. Tikatok.com will offer the printed book in 12 languages and offer readers the opportunity to personalize the book to create a unique gift. Barnes & Noble.com will also have a digital NOOK Kids Book edition to read on Barnes & Noble's NOOK Color, the first full-color touch Reader's Tablet, and on the NOOK Kids for iPad app. Through May 31, 2011 all of the proceeds from the NOOK Kids Book will benefit Room to Grow.