VF outlines strategy to add $5 bn in revenue growth by 2015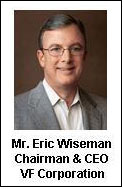 VF Corporation, a global leader in branded lifestyle apparel, is announcing new 5-year financial targets at its investor meeting in New York City. Eric Wiseman, Chairman and Chief Executive Officer, and other members of VF's management team will be discussing the company's plans to reach its 2015 goals of adding $5 billion in revenues and $5 in earnings per share growth from 2010 levels.

"VF's momentum continues to build," said Wiseman. "We're approaching the next five years with confidence, and with the belief that the full potential of our brands is just beginning to unfold. We have a strategic plan in place to drive revenues at a 10 percent annual rate and earnings at a 12 percent annual rate, with operating margins rising to 15 percent over the next five years. Our goal is to reach $12.7 billion in revenues by 2015. Growth will come domestically and internationally, across all coalitions, and in both our wholesale and direct-to-consumer businesses."

Key components of the $5 billion in expected revenue growth include:

• $3 billion from Outdoor & Action Sports, where revenues have grown on average by 17 percent over the past five years. Building on well-established and highly profitable domestic, international and direct-to-consumer platforms, The North Face and Vans brands, which account for 75 percent of total coalition revenues, are targeting annual growth of 16 percent and 13 percent, respectively. By 2015, Outdoor & Action Sports should account for at least half of VF's total revenues.
• $1 billion from growth in Jeanswear through the Wrangler and Lee brands, led by expansion in international markets such as Asia, Europe and Latin America.
• $1 billion from higher revenues across Sportswear, Imagewear and Contemporary Brands, combined, over the next five years.
• The meeting is also focusing on international and direct-to-consumer growth plans and targets, including:
• 15 percent annual growth in international revenues. Asia will be VF's fastest growing market, with revenues by 2015 of $1.3 billion, representing an annual growth rate of 28 percent. VF's largest international market, Europe, and the Americas region are both targeted to grow 11% annually.
• 15 percent annual growth in direct-to-consumer revenues. More than 700 new stores across a variety of VF brands will be opened during the next five years, bringing the total number of stores to about 1,500 by 2015. E-commerce revenues are expected to triple during this period, reaching nearly $400 million.

Expanding Margins and Strong Cash Generation

The profitability of VF's Outdoor & Action Sports, international and direct-to-consumer businesses are substantially above the corporate average. Higher growth in these highly profitable businesses will fuel expansion in both gross margins and operating margins over the next five years. By 2015 operating margins are expected to rise to 15 percent from 13.3 percent in 2010.