AMG unveils Spring Summer collection for Dockers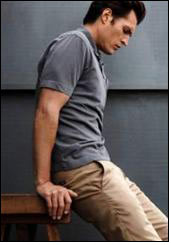 Mohammed Al Madani CEO & Chairman of Al Madani Group (AMG), Sole distributors of Levi's and Dockers products in the UAE announced the launch of the Spring Summer '11 collection. The new collection is now available in Dockers stores in Diera City Centre & Dubai Mall.

The Group CEO & Chairman said "The spring summer 2011 collection are a "must haves" in any Mans wardrobe. The collection focuses on simplicity. This season Dockers Khaki's plays an important role & is predicted to be the choice of the season."

Spring/Summer 2011: True Character

Dockers collection for Spring/Summer 2011 isn't so much inspired by the great American Western Plains of Montana, but rather the expanse high desert of Texas, in particular the city of Marfa. Virtually unspoiled by modern technology, Marfa has become somewhat of a Mecca for those yearning for a simpler, more raw or rugged way of life. A hub for struggling artists, young designers or budding architects, the fact that Marfa played home to the minimalist artist Donald Judd for the last two decades of his life, only amplifies the importance of the place.

The Dockers brand has grasped the very spirit of Marfa, Texas, not just the sun drenched colors, the look and feel of the architecture, the expanse of open sky and the miles of rugged landscape, but the freedom and unlimited possibilities it represents, whether traveling on a lonely highway or on a winding narrow road. Spring/Summer 2011 introduces a new kind of modern garb, a head-to-toe Khaki look injected with a shot of color.

Khaki on Khaki is forecast as a leading trend for Spring/Summer 2011; a play of layering various Khaki variations textures and finishes one on top of the other. The Dockers Fatigue pant worn with a white t-shirt, bright polo shirt and zip hooded sweater is one fine example.

The Pleated Pant, which made a welcome return last season, is still on trend with a larger fit portfolio for Spring/Summer 2011, so to is the Utility Pant, its cut-and-sew heritage the essence of its early origination in the mid-1880s. The Dockers D-0 fit has also been refreshed this season, making it the must-have skinny fit Khaki pant this Summer.

America's 'Country Club Chic' of the sixties inspires Shorts, Shirts and Polo Shirts with a range fresh from the archives of celebrated American photographer Slim Aaron's. Bold, bright and brash are the three key words, with the vast Texan desert skies inspiring a rich colour pallette of blues, purples, oranges and yellows. Shirting is classic yet contemporary in cut, pattern (it is all about stripes) and style.

Polo tops are designed in colors that are made to be seen! A similar story carries across shorts with checkered plaid styles reminiscent of America's great golfing heroes of the 50s and 60s. Only Dockers Tailored Shorts give a more conservative story; straight fit and cut shorter on the thigh this season, they can be dressed up with a Bibbed Shirt, a white cotton shirt or dressed down with a simple bold graphic t-shirt.