Relax & enjoy the fashion features at Interfilière, Mode City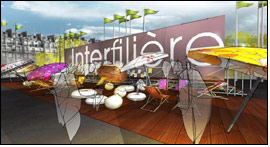 The world's leading trade fair for intimates and beachwear fabrics, Interfilière is the only international-scale event which brings together both markets.

On July 9th, 10th & 11th 2011 Interfilière and Mode City will be inaugurating their new dates. Ideally-timed for the profession, the shows will kick-start the season, trends and fabric sourcing at the heart of a new venue: pavilion 1…

In July, Interfilière's indoor and outdoor features will offer a veritable invitation for discovery, surprises, inspiration, networking and exchange, in a new show design capturing a laid-back summer vibe. Enjoy a weekend break in Paris!

Outdoors:
Textile designers show off their creative flair, bringing the space to life with an exciting "speed motif": a marathon of unbridled creativity using fashion-forward themes to suit the season.

An enjoyable way of combining business and discovery, during a relaxing break!

Restaurants, chill-out zones and other fashion features are also on the agenda.

Indoors: successfully initiated at the January session, an exhibition of photographs taken by exhibitors will illustrate the "Invitation to travel" theme in a display of imaginative, off-the-wall, humorous, fun and aesthetic images!

Exceptional Evening Event: Ultra

Bringing together both Interfilière and Mode City exhibitors, this catwalk show event returns on Saturday 9th July 2011. It will be held in the Pavilion Cambon, Place Vendôme.

Designed around the theme of "Travel diaries", this exceptional catwalk show will present intimates and beachwear prototypes – created by Mode City brands working hand in hand with Interfilière fabric specialists – to 700 VIP guests who are lucky enough to attend this unique and magical catwalk show.

• Oriental Desires: the Orient inspires wonder and delight...whether from China, India or the Middle East, fashion is enriched by an array of ornamental décors. With references to Russian ballets and open to the cultures of the Ottoman Empire, China and India, in a context of stylistic elements.
• Dreams of Africa: the splendour of the African continent never fails to impress... its open expanses, tribal art and indigenous designs. Clichéd safari looks, tribal influences, ethnic nomadic influence, nomads, calm, raw and refined...
• Polar Night Treasures: a desire to escape far into the North, for travellers seeking untamed scenery and infinite expanses. Frosted effects, fur accents, with a light, floating and evanescent feel.

Exhibitors Geared up for the New Start!

Exhibitors are divided into 7 different sectors: Lace It (quintessential lace), Brod'Cust (embroidery in all its guises), Neoskin (the heart of the product range: knits, wovens, prints, embellishment), Access'Folies (the perfect finishing touches: beads, braids, buttons, ribbons, hooks-and-eyes, bra-cups…), Hi'Tech (innovation and technology with fibres, yarns and machines), Textile Designers (studios, textile designers) and Trends offices.