Clothing retailers need decent return from seasonal stock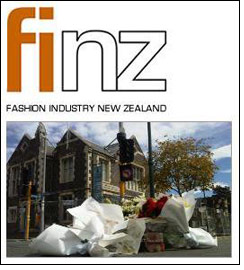 One month on from the earthquake, Fashion Industry New Zealand (FINZ) takes stock of clothing businesses in Christchurch, to determine the immediate challenges and long-term outlook for ragtraders in the country's third-largest city.

Given the high concentration of fashion retail in the CBD, clothing merchants were among those hardest hit. Several wholesalers suffered moderate damage on the city fringe, but most manufacturing remains intact, being situated in the surrounding suburbs.

Figures from last year show that apparel represents 13.3 percent of physical retail in Christchurch City; home to 415 clothing stores that employ 2,060 people.

Most clothing retailers in the central city still don't have access to their premises and cannot assess the full damage. Those who have managed to recover stock are now trying to clear summer garments as temperatures drop.

"Some boutiques are operating from temporary sties, while those with multiple stores have transferred stock to other locations. Businesses engaged in e-commerce are also working harder to push sales online," says Fashion Industry New Zealand - FINZ executive officer, Mapihi Opai.

With collections for winter being delivered through February and March, clothing retailers in Christchurch have also been faced with the tough decision of whether to receive existing purchase orders or cancel them.

"It's a difficult situation. A lot of them still have money tied-up in stock that would have otherwise been cleared a month ago. But, clothing is a very seasonal product and retailers who can't take hold of deliveries for winter will have very little to trade on over the next six months," says Opai.

"End-of-season stock has to be sold and it's got to happen fast. Retailers also need a decent return on this product to help give them a fighting chance going forward. So, we're urging everyone to support apparel companies in Christchurch by purchasing clothing from their online stores and catalogues."

Christchurch represents 10-40 percent of the domestic wholesale market for clothing suppliers throughout New Zealand. Cancelled purchase orders for winter had a significant bearing on many of these firms, few of which can afford to hold stock in the lean economic environment.

"Wholesalers will carry the loss for winter and have been extremely supportive of stockists who are struggling to get back on their feet. They've extended payment terms and accepted cancelled orders, but are now having to try and shift this product to other retailers around the country," says Opai.

When asked what the future holds, Christchurch ragtraders were divided. For many, the earthquake had a negative impact on business, but the loss of lives has weighed more heavily on their minds in the weeks following than the long-term outlook for trade or plans to rebuild the city.