Clothing accessory sector booms in Bangladesh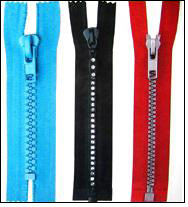 On the back of a boom in apparel exports from Bangladesh, the garment accessory industry too has followed in its footsteps and taken off and is flourishing like never before.

Clothing accessories like zippers, buttons, labels, elastic bands, collar stays, collar bones and cartons are as important an item, as the fabric itself, while manufacturing a garment.

From import dependency in the early 90s, today, the Bangladesh accessory industry has attained almost self-sufficiency in domestic production of various products needed to put together a garment.

However, the domestic accessories market is controlled by overseas companies operating in Bangladesh, as, garment makers prefer to buy accessories from them, rather than from the local accessory producers.

Shafiullah Chowdhury, an adviser to Bangladesh Corrugated Carton Accessories Manufacturers and Exporters Association acknowledged by saying, "Yes right. The accessories sector contributes more than $2 billion and we expect it to double within the next three years.

"Since the growth of the accessory sector is related to garment exports, the surge in RMG exports in turn, will benefit the accessories industry to grow in the same manner", he concluded by saying.

Shamim Iqbal, Chairman - KDS Accessories, a leading accessory maker says, "The trims and packaging business began to consolidate globally not too long back. Bangladesh, although slightly behind the global phenomenon, is actively catching up to the trend.

"Today, Bangladesh is nearing self sufficiency in terms of product availability and quality. But the trims and packaging business segment that has respectable margins works in a different way and is highly dependent on global presence and capability and specific 'nominations' by the retailers; decided mostly at their head offices.

"So while many manufacturers are quite capable of delivering on expectations, the others are unable to so, because they don't have a global presence or the marketing network. This pushes them to only depend on the apparel manufacturers and face a very tough competition resulting in the margins being driven down very low.

"So while I agree that we are ready as a whole, the small local companies are unable to participate at the top of the value chain in the business. A major chunk of this segment has been captured by a handful of global suppliers of trims and packaging.

"The rest of the accessory makers supply to low-end and local garment suppliers; desperate for a share in the pie, by cutting prices, almost to a point of disappointment. This is off course welcomed by apparel producers, but in the long run, has its affect on quality, as low prices force manufacturers to cut corners.

"Not all the companies are able to go the distance to establish a global presence and acquire 'nominations' from retailers which qualifies them to be able to supply to the apparel manufacturers in Bangladesh".