Menswear & Lingerie perform particularly strongly, M&S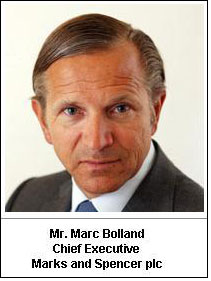 Marks and Spencer plc reported quarter 4 2010/11 – Trading Statement 13 weeks to 2 April 2011.

Reported results

• Group sales +2.3%
• Total UK sales +1.0%: General Merchandise -3.4% Food +4.9%
• LFL UK sales +0.1%: General Merchandise -3.9% Food +3.4%
• Market share General Merchandise +30bps1 Food +10bps2

Underlying results

• Group sales +4.2%
• Total UK sales +3.2%: General Merchandise +1.2% Food +4.9%
• LFL UK sales +2.2%: General Merchandise +0.7% Food +3.4%

Due to 2009/10 being a 53 week financial year, this reported quarter does not include the first five days of the Christmas sale which were included in the comparative quarter last year. This had an adverse impact in the reported quarter on the total and like for like UK and General Merchandise sales. There was no impact on Food sales.

Marc Bolland, Chief Executive said:
"We had a good fourth quarter in a challenging trading environment. In times like these customers are increasingly turning to M&S for value, quality and innovation. Strong products backed by great advertising meant we outperformed the market and grew share in both Food and Clothing."

"The plans we laid out in November continue to build momentum, demonstrated by our collaboration in Home with Sir Terence Conran, our 'bricks and clicks' return to France, and, importantly, our ability to attract best in class talent."

General Merchandise sales were in line with our expectations given the extremely tough like for like comparatives of +9.1% in this quarter last year and the recent challenging trading conditions. In difficult times, customers continue to turn to the value and quality with which the M&S brand is synonymous.

We grew market share by 30bps to 11.6%1 as we delivered affordable style across our ranges with products to suit every budget. Menswear and Lingerie performed particularly strongly and we had a good start to our new Womenswear Spring Campaign with customers responding well to our interpretation of the latest fashions.

International sales were up 12.6%, reflecting strong performances across most of our markets offset by difficult trading conditions in Ireland and Greece. M&S Direct sales were up 13.7% in the quarter, as we reached the full anniversary of the launch of our Shop Your Way service.

Outlook
Looking ahead to 2011/12 we expect the trading conditions to be increasingly challenging due to pressure on consumers' disposable incomes and higher commodity prices. As a result we are cautious about the outlook. Our focus will be on remaining competitive, and offering our customers great value and quality at a time when they will be managing their budgets carefully.

We are now embarking on the first phase of our plan to develop M&S into a leading international multi-channel retailer. While the short term trading conditions will be difficult, we haveidentified a clear path for long term growth, and will continue to focus on delivering against our plan.