Lakeland achieves 19th consecutive year of profitability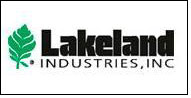 Lakeland Industries Inc announced financial results for its fourth quarter and full fiscal year 2011 ended January 31, 2011.

Management's Comments

Commenting on the financial results and recent developments, Lakeland Industries President and Chief Executive Officer Christopher J. Ryan said, "We are pleased to report consolidated fiscal year 2011 financial results which benefited from significant progress achieved in the implementation of our international growth strategy. Our international operations have gained traction to offset domestic softness such that Lakeland was able to report its 19th consecutive year of profitability.

"While our total revenues increased 7.5% year-over-year, Lakeland's international revenues grew in excess of this level to offset declines in U.S. sales. The international growth strategy was, in fact, intended for this very purpose. However, we are more encouraged than ever that we have put in place the foundation for future growth in both the top and bottom lines that may far exceed whatever would have been achieved solely as a domestic company. International revenues accounted for 40.5% of consolidated fiscal 2011 sales, the highest level in our history and far greater than the 34.7% for fiscal 2010 and 25.0% in fiscal 2009.

"The importance of our international presence is that our business model is far superior to what we had been working with during the prior two decades when we had been focused domestically. Our international businesses enable us to achieve higher gross margins through better control of the supply chain. We source lower cost raw materials and produce industrial and protective garments in our geographically dispersed facilities. In many cases, we are marketing and selling our products direct to end customers as opposed to using distributors, so we have better price control and can manage our customers more effectively. Furthermore, we continue to build our brand throughout the world. Our efforts are gaining traction and our reputation for quality garments, new products and expedient delivery time is regarded world-over.

"As a result of our international presence and improved market position, we are increasingly being given the opportunity to participate in large bid contracts for government agencies and multinational corporations. To this end, we have increased inventory levels temporarily in part to take advantage of anticipated supplier price increases, seasonal buildup and new products. We are growing rapidly in many foreign markets, with notable improvements in China and Brazil. As previously disclosed, changes in the elimination of intercompany profits relating to our operations in China only contributed $0.01 in EPS in Q4FY11, from the $0.10 deferral reflected at Q3FY11. We expect to realize much of the deferral balance in the first quarter of fiscal 2012.

"Among our other foreign operations, we are particularly excited by the prospects for winning numerous large bid contracts in Brazil that may span several years. A plant expansion in Brazil was completed at the end of October and we are also considering other means of expansion. In anticipation of worldwide sales growth, investments were made in fiscal 2011 and continue to be made in the present fiscal year that will provide a substantial increase in our production capacity. With our improving global brand and reputation, we are presently considering a multitude of opportunities for private label manufacturing. We have available global manufacturing capacity in excess of 30% of our current revenue base that can be used for private labeling, while our direct sales and marketing initiatives expand our customer accounts for direct sales.