Spotlight on Lycra sport fabrics & T400 fibre at Performance Days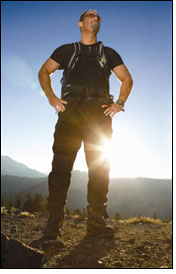 INVISTA, one of the world's largest integrated producers of fibres and polymers, will be showcasing performance-driven LYCRA SPORT fabric as well as LYCRA T400 fibre at the Performance Days Show at MTC world of fashion in Munich on May 16th and 17th 2011. Performance Days is the first European tradeshow to specialise in presenting functional fabrics and accessories for the sportswear and workwear textile market.

LYCRA SPORT fabric and LYCRA T400 fibre will take centre stage on INVISTA's Performance Days stand with a collection of the latest fabrics from leading mills worldwide as well as commercial and prototype garments featuring the innovations : an opportunity for brands, retailers and mills to discuss ways to enhance their active and outerwear businesses.

LYCRA SPORT fabric – The Power to Perform
LYCRA SPORT fabrics are a range of branded performance fabrics designed specifically to support athletes and active people in their sporting activities, which require fabrics to offer a combination of lightweight, breathability, muscle support and freedom of movement.

Captivating research on the benefits of LYCRA SPORT fabric in sport engineered garments were further explored over the course of a two week wear test lead by independent research consultancy Progressive Sports Technologies at Loughborough University Research Center, which included a total of 120 hours of wear with 50km of running.

David Capdevila, Activewear and Outdoor Apparel Global Marketing Director, said, "Leggings with LYCRA SPORT fabric were confirmed to provide a noticeable improvement in the athlete's freedom of movement, corroborating INVISTA's findings. LYCRA SPORT fabric garments were perceived to move easily with the athlete's body and maintained their original shape and compression power, empowering athletes to perform at their best."

LYCRA T400 fibre – Adding performance features to cotton garments

In the current context of increased pressure on brands and retailers' pricing strategies, INVISTA will highlight its bi-component fibre offering LYCRA T400 focused on delivering enhanced fabric performances while helping the industry address inflated cotton prices and reduced available resources.

With this unique market development in mind, garments made from 100% cotton tend to become more expensive and enter the same price range as apparel including LYCRA T400 fibre in their fabric composition. LYCRA T400 fibre offers fabric mills the opportunity to develop improved performance fabric options at similar price points than 100% cotton fabrics.

LYCRA T400 fibre added performance benefits include:

• Improved moisture management
• Outstanding comfort, stretch and recovery in all directions
• Better shape retention
• Higher durability to abrasion
• Wrinkle resistance
• Natural touch and appearance derived from core-spun yarn

Simon Whitmarsh-Knight, Marketing Account Director for INVISTA Active Outdoor Apparel, will offer industry insiders a conference opportunity to explore how LYCRA T400 fibre can turn cotton basics into higher performance sportswear and outdoor apparel on Tuesday the 17th, 10:30 am at the Performance Days Trends Forum.