Outlast used in Survival-One's new helicopter passenger suit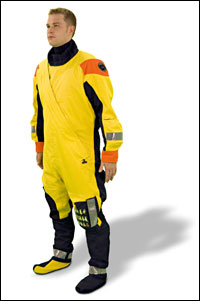 Water is a dangerous place with unpredictable elements. But with some jobs and activities it is not possible to just stay away from it. To get to offshore installations there is no other choice than to fly over water. So if a risk can't be avoided it is essential to take every precaution to minimize it.

Survival-One Limited, recognized world leader in the design, manufacture and service survival clothing and equipment, has recently launched a new helicopter passenger survival suit incorporating Outlast technology for better comfort.

"Survival-One manage a fleet of around 30,000 helicopter passenger survival suits for use by the offshore oil and gas industry", explains Andy Wilson, Design & Development Manager at Survival-One Limited, Aberdeen/United Kingdom.

"We are experienced in providing survival solutions but we are always interested in innovation. We don't want to look just for fulfilling specifications. We want to offer ultimate protection for workers without compromising human factors. Our latest development is the new 1000 Series suit which has now entered service, being worn over the North Sea. We are using Outlast materials to enable offshore workers to benefit from enhanced insulation that regulates the microclimate inside the suit to improve thermal comfort and reduce thermal stress.

The elevated thermal insulation worn to address the effects of long term immersion in water (typically less than 10°C) can cause heat stress to the wearer and utilizing Outlast® technology is one means of mitigating against this."

"You can't fight the sea, but by drawing on design knowledge, experience and the latest enabling technologies you can increase the effectiveness and efficiency of survival mechanism and protective equipment. We have achieved a real break-through with this next generation of survival suit. It delivers maximum protection without sacrificing comfort."

The core business of Survival-One is concerned with the provision of helicopter survival suits, either for hire or outright purchase, to the offshore oil and gas industry. Such suits are worn by passengers and aircrew during helicopter transit to and from offshore oil and gas installations and are designed to provide protection against cold water immersion in the event of the helicopter ditching at the sea. The need for helicopter passenger and aircrew immersion suits has developed with the growth of the offshore oil and gas industry. Offshore installation personnel are transported daily to and from offshore installations by helicopter. In the case of the UK northern sector of the North Sea, most flights are centered on Aberdeen Airport, Europe's largest commercial heliport, serving around 500,000 helicopter passengers each year.

In the past survival suits used in the UK sector of the North Sea used to confirm solely to the UK CAA Specification 19. The new suit doesn't just comply with the new European standard of EASA (European Aviation Safety Agency) it goes beyond the minimum requirements delivering exceptional in-water performance and survivability. The people wearing it as they fly back and forth to their installations need to know that it is as technological perfect as it can be.