Decline in fiscal-first-quarter profit, Levi Strauss & Co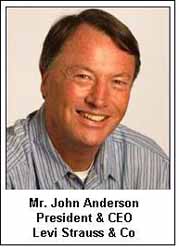 Levi Strauss & Co announced financial results for the first quarter ended February 27, 2011 and filed its first quarter 2011 results on Form 10-Q with the Securities and Exchange Commission.

Net revenues increased eight percent on both reported and constant-currency bases, reflecting sales growth in each region. Increased net revenues were primarily in the Levi's brand through global expansion and performance of the company's brand-dedicated retail network and performance at wholesale in the Americas.

First quarter net income attributable to the company was $41 million, a decline of $16 million compared with last year. Net income declined primarily due to a decline in the company's gross margin and a non-operating charge from the company's foreign exchange management activities.

"We made progress executing against our strategic initiatives and drove sales growth across all regions in the first quarter," said John Anderson, president and chief executive officer. "We continued to offer consumers innovative products by introducing the fourth revolutionary fit for women in our Levi's Curve ID collection as well as launching Levi's Water

In a separate release, the company announced the future launch of Denizen in North America.

"During the quarter, we also continued the rollout of our newest brand Denizen™ to address the growing markets in China and India," added Anderson. "With more than 100 Denizen™ stores in Asia, we're now looking forward to bringing the brand to consumers in the United States and Mexico this summer."

First-Quarter 2011 Highlights

Gross profit in the first quarter increased to $558 million compared with $533 million for the same period in 2010. Gross margin for the first quarter was 49.8 percent of revenues compared with 51.5 percent of revenues in the same quarter of 2010. Decline in gross margin was primarily due to higher sales allowances and discounts in both the Levi's and Dockers brands to increase sales and manage inventory. Gross margin benefited from increased revenue contribution from the company's retail stores.

Selling, general and administrative (SG&A) expenses for the first quarter increased in-line with the growth in net revenues, to $459 million from $426 million in the same period of 2010. Higher SG&A was primarily due to additional selling expenses related to the expansion of the company-operated retail operations.

Operating income declined from $107 million to $99 million as benefits from the increase in net revenues were offset by the lower gross margin and continued investment in the company's retail network.

Regional Overview

Higher net revenues in the Americas were due to the Levi's brand, which had higher sales in boththe company's retail stores as well as the wholesale channel. In addition, online revenue grew.