Alpha G:Corp's 1st Brand Partners' Meet successfully concluded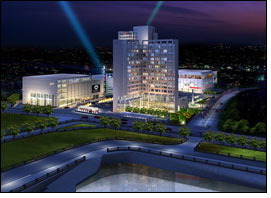 Alpha G:Corp invited the Anchor and Vanilla Brand Associates to strategize and brainstorm with an open exchange of ideas, dialogue and feedback to collectively drive optimum footfalls into AlphaOne Ahmedabad, which is already over 80% leased out. AlphaOne, Ahmedabad has handed over the leased spaces to Cinépolis and Lifestyle while others are mobilising for fit-outs. AlphaOne will open its doors to the public in September.

The key people interacting at the first Brand Partners' Meet were Mr. S K Sayal, Director & CEO, Alpha G:Corp; Mr. Prodipta Sen, VP, Marketing, Corporate Affairs & Retail, Alpha G:Corp; Mr. Mukul Kumar, Chief Technical Officer; Mr. Ashish Sarin, Chief Financial Officer; Mr. Deepah Marda, JMD, Cinepolis; Dr RL Bhatia, Fun & Joy at Work; Mr. Ashwin Babbar, Shoppers Stop; Mr. Dharmendra Jain, Hypercity; Mr. Samant Jairath, Jairath Associates; Mr. Chandrakant Dey, Jones Lang Laselle, among a guest profile of 250, which also consisted of the very best of current and prospective vanilla brand retailers across the spectrum. The presentation by guest speakers was followed by a brief Q&A session. The guests were provided with feedback forms to assess their genuine feedback and suggestions to optimize the footfalls in the mall.

Mr. S K Sayal stated at the meet, "In order to make it a win-win experience for every shopper and retailer, we set up innovative systems and procedures based upon sustained research from the time this mega project was finalized. This spirit and its result are evident at this 1st Brand Partners' Meet. We look forward to great success in this venture for each person present here."

The interactive discussion continued during high tea later after which top company officials accompanied retailers and guests for a detailed visit of the mixed use development.

Alpha G:Corp is also the first developer in India to attempt this manner of interactive collaboration with their retailers and brand partners. AlphaOne, Ahmedabad has the best International, National and Regional mix of brands and many among them attended the 1st Brand Partners' Meet on April 08th, 2011. This soon to be launched mega retail and entertainment City Centre project of 1.2 million sq. ft. in Ahmedabad, under the signature brand name, 'AlphaOne - a lifestyle destination like never before!', will establish a rational and practical business model where optimum customer delight is the unconditional priority in all business decisions, promotions and operations.

As Ahmedabad's largest mixed use development comprising of high quality retail and entertainment, AlphaOne would make a discernible impact on the socio-economic fabric of Amritsar and surrounding areas. Mr. Prodipta Sen, thanked the media and retailers present, "The concept seeks to develop this landmark as a single destination city centre point for the entire city of Ahmedabad as well as adjoining areas. Contrary to popular belief, consumers in Ahmedabad don't just seek value for money but also value for experience."