Monthly flow & replenishment drive growth, Burberry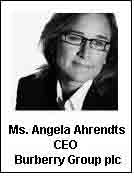 Burberry Group plc, the global luxury company, reports on trading for the six months to 31 March 2011. The financial information contained herein is unaudited.

Highlights

• Total revenue of £860m, up 30% underlying
• Retail revenue of £596m, up 42% underlying
- 13% comparable store growth
- Double-digit mainline growth in all regions
- Prorsum and Burberry London outperformed
- Around 30% comp growth in acquired stores in China
• Wholesale revenue of £214m, up 14% underlying
- Up 29% excluding China, ahead of high teens guidance
- Better than expected in-season orders
- Menswear grew strongly
- Americas and Asia Pacific outperformed
• Licensing revenue of £50m, down 5% underlying, in line with guidance
• Further strategic and operational progress
- Retail nearly 70% of total revenue
- Monthly flow and replenishment drove growth
- Further development of retail theatre and global digital commerce platform
- Saudi Arabia joint venture being formed to directly operate five stores
- Spain restructuring complete
• Looking forward, Burberry is planning
- 12-13% increase in average selling space for FY 2011/12 excluding the acquired stores in China; building presence in Latin America and Middle East
- Mid teens % growth in underlying wholesale revenue for H1 2011 excluding China
- Mid single-digit % growth in underlying licensing revenue for FY 2011/12

Angela Ahrendts, Chief Executive Officer, commented:

"Burberry had a strong finish to the year, driven by our design, digital marketing and retail initiatives, as well as good early progress in China. As a result, we expect adjusted profit before tax for the financial year 2010/11 to be around the top end of market expectations. While the luxury industry faces global challenges in the year ahead, we remain confident in our team's ability to outperform, underpinned by the consistent execution of our key strategies."

Retail

Retail sales, which accounted for nearly 70% of total revenue in the second half, increased by 42% on an underlying basis (up 43% at reported FX). China, which transferred from wholesale to retail on 1 September 2010 following the acquisition of the former franchisees' operations, contributed 19% to this underlying growth. New space in other regions generated a further 10% of the underlying growth.

Comparable store sales in the half increased by 13% (Q3: +14%; Q4: +11%) with a consistently strong performance across quarters from Asia Pacific. Each of the regions delivered double-digit mainline growth in the half, led by Hong Kong, Taiwan and Germany. The acquired Chinese business continued to perform well, with comparable store sales up by around 30% in the half. These sales were not included in Burberry's 13% comparable growth in the period.

Average selling price increased, driven by greater penetration of Prorsum and Burberry London in apparel and continued outperformance from outerwear. Sales of replenishment styles grew strongly across all product categories.