Group sales up; we can do better - Tesco Chief Executive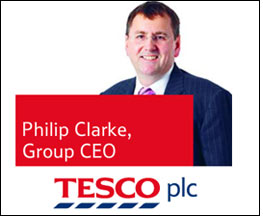 Tesco plc announced preliminary result for 2010/11.

• Group sales up 8.1% to £67.6bn
• 12.3% rise in underlying profit before tax to £3.8bn
• Group return on capital employed (ROCE) increased to 12.9% (last year 12.1%)
• 7.8% growth in Group trading profit to £3.7bn, including 30% growth in Asia
• Underlying diluted EPS growth of 10.8%; dividend per share growth of 10.8%
• Net debt reduced to £6.8bn by year-end, ahead of plan
• Exceeded our 2010/11 carbon targets

Philip Clarke - Chief Executive

"I am pleased with our strong overall performance in the face of some challenging conditions and we are well-positioned, with multiple opportunities to deliver long-term growth and rising returns. I want to thank the 500,000 people who work at Tesco for their contribution to this performance.

We have equipped the business for global growth with new management structures and teams -including an experienced UK Board, which is bringing more focus and energy to our largest business. Asia and Europe made excellent progress contributing nearly 70% of our profit growth in the year. The momentum in the USA is building but still has some way to go."

New management structures in place and increased focus on UK core business:

• New global Executive Committee in place, combining key business areas and support functions
• Six immediate team objectives set - around performance, growth and returns
• Dedicated, experienced UK Board appointed and operational
• Plans to align senior management remuneration with growth and ROCE improvement

We have set some immediate objectives for the Tesco team:

• First, keeping the UK strong and growing.
• Second, we want to be outstanding internationally, not just successful.
• Third, as the combination of stores and online becomes compelling for customers, we aim to become a multi-channel retailer wherever we trade.
• Fourth, we will deliver on the potential of Retailing Services - of which the Bank is a big part.
• Fifth, by applying Group skill and scale we will give our customers even more value and increase the competitive advantage to our businesses.
• Sixth, deliver higher return on capital employed for shareholders.

For UK, ROI and US, these results are for the 52 weeks ended 26 February 2011 and the previous year comparison is made with the 52-week period ended 27 February 2010. For all other countries and Tesco Bank these results are for the year ended 28 February 2011 and the previous year comparison is made with the year ended 28 February 2010. All growth rates are calculated at actual exchange rates unless otherwise stated. Statutory numbers include the accounting impact of IFRIC 13 (Customer Loyalty Programmes). All other numbers are shown excluding the accounting impact of IFRIC 13, consistent with internal management reporting. More information can be found in Note 1 to the preliminary consolidated financial information.