Our brands are strong & performing well - Hanesbrands CEO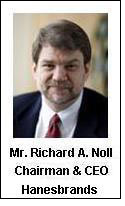 HanesBrands reported strong net sales and diluted earnings per share growth in the first quarter of 2011 as a result of acquisition contributions, organic growth, and operational efficiency. As a result, Hanes raised its full-year guidance for net sales and EPS.

Diluted EPS for the quarter increased 32 percent to $0.49, compared with $0.37 in the year-ago quarter. Net sales for the quarter increased 12 percent to $1.04 billion, driven by strong performance of the acquired Gear For Sports business, organic Outerwear segment growth and International growth. The quarter's sales increase followed 8 percent sales growth in last year's first quarter.

As a result of the strong quarter, the company has raised its full-year 2011 diluted EPS guidance to a range of $2.70 to $2.90, up from previous guidance of $2.60 to $2.80. Hanes' new net sales range is $4.9 billion to $5 billion, with the low end of the range increased from $4.85 billion.

"We significantly beat our expectations in the quarter and are off to a strong start in 2011," Hanes' Chairman and Chief Executive Officer Richard A. Noll said. "Our brands are strong and are performing well. We are raising prices appropriately to deal with input-cost inflation, and as we leverage our scale and infrastructure, the benefits of increased sales and acquisitions are dropping through to the bottom line."

Financial Highlights and Business Segment Summary

Growth in the quarter was driven by strong Outerwear and International segment results. The Outerwear segment's Gear For Sports business, which was acquired in November 2010, contributed 5 percentage points of the company's 12 percent sales gain and $0.03 of the $0.12 increase in EPS.

The company's operating margin in the quarter improved to 9.8 percent of sales, up 60 basis points from the year-ago quarter, despite higher cotton and commodity costs of $35 million. Cotton costs for the first quarter were $0.83 per pound, up from $0.52 a year ago.

"We had a good quarter and have a positive outlook for our largest segments," Noll said. "Our International and Outerwear segments continue to contribute strong growth. Gear For Sports is outperforming expectations, helping to drive sales, leverage our infrastructure and expand our Outerwear profitability and margins. Innerwear segment sales were flat and profitability was reduced, but our price increases in the segment were in place for only a portion of the quarter, and we expect profitability to return to historical levels as we continue to increase prices commensurate with input costs."

Key business segment and brand highlights include:

Innerwear segment sales were comparable to last year, increasing slightly, although last year's quarter had the benefit of more than $30 million of new program shipments. Increases in sock and male underwear sales were offset by a decline in women's intimate apparel sales. The fact that price increases were only in place for two months in the quarter contributed to a 23 percent decrease in operating profit.