Brits online fashion sales continue to grow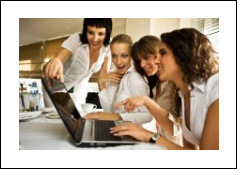 Some said there would be no substitute to the changing room, but new research from Mintel finds sales of online fashion have soared, increasing a staggering 152% over the last five years alone to 2010. Indeed, in the last year alone, over one in three (35%) Brits brought their clothes at the flick of a switch, up from 26% the previous year.

Valued at £4.3 billion in 2010, over the past five years, sales of online fashion have exploded. The market for online fashion is expected to reach £4.8 billion by the end of 2011. By the end of last year a massive 34% of all Bits were shopping online for their clothes, up from 25% in 2009. While interest in online fashion remained stable throughout 2010, fashion has outperformed almost all other online sectors - including CDs and DVDs, books and travel - making it one of the shining stars of the online shopping sector. What is more, growth is set to continue, by 2015, sales are expected to increase 45% to reach a staggering £6.9 billion.

Tamara Sender, senior fashion analyst at Mintel, said:

"While the recession and stabilisation of the rise in internet penetration has impacted the online fashion market, sales of online fashion continue to grow. The market received a boost as several high street fashion retailers enveloped their online channels at the end of 2010, with leading high street retailers launching websites and other online retailers entering the fashion market."

The importance of social media to online fashion is highlighted by the fact that almost six in ten consumers (57%) look for customer feedback or reviews if they are unsure about a website. Meanwhile, the same proportion of consumers (58%) are nervous about buying from websites they are unfamiliar with, for example those without UK contact details. Despite the desire for websites to include customer reviews, over a third (34%) of adults do not like to leave feedback or share opinions online about sites they have used, compared to three in ten who do like to.

"While growth in online clothing sales during 2011 is expected to be impacted by the economy, more innovative online campaigns - together with new technology such as augmented and 3D reality, use of QR codes and mobile optimised sites - will help to overcome people's fears of shopping online and draw more people to the sector. Innovation is key and retailers and brands need to maximise online sales by selling clothes via social networking sites and using Facebook and Twitter to interact with consumers and improve their services. Despite rising smartphone ownership, particularly among young consumers, many fashion retailers have been slow to ensure that they have mobile optimised websites and many have still not launched apps." Tamara continues.

Furthermore, Mintel's research also reveals the addictive nature of online fashion. Today, as many as four in ten (40%) adults aged 16 -24 years believe that shopping online doesn't really feel like spending money, admitting that they tend to spend a lot more than they would in an actual shop. This is almost double the average (23%). Despite the popularity of online shopping, the importance of bricks and mortar is demonstrated by the fact that over half (53%) of consumers prefer to return or exchange items in store that they have bought online. And over a third (36%) of adults would also prefer to order or reserve online and try on or buy from a store.