India-Bangladesh trade talk bodes well for RMG sector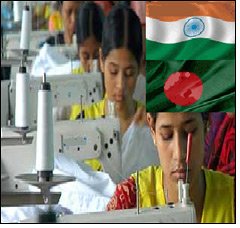 Recent weekend had been important greatly for India and Bangladesh as both the countries' Commerce Ministers - Mr Anand Sharma and Mr Muhammad Faruk Khan had a successful dialogue to work out jointly on the avenues boosting Garment industry- the strong economy driver for both the nations.

The meeting took place in Dhaka on Saturday 23 April 2011, including attendees viz FICCI President and members, Team from Marico Group, Mr. Mittal, MD of Bharti Group- Airtel, BGMEA President, VPs and Directors, FBCCI team, and leading players from textile industry including Nitol Niloy Chairman.

As the conclusion, participating countries have settled long discussed and awaited agenda on garment quotas. The quota for duty free import of garments from Bangladesh is reset by two million pieces to 10 million and also countervailing duty on jute is been removed said the official sources.

Speaking to Fibre2fashion news team, appreciating the initiatives by the policy makers, Mr Abdul Salam Murshedy, former president BGMEA, gushed "Indian trade minister's visit to Bangladesh is a good gesture for the promotion of business and commerce for both countries, for, I envisage it to be improving import and export between India and Bangladesh greatly now."

He described that until now the import from India was only $2bn, which for Bangladesh is very nominal export though being a neighbor - friendly country. He estimates that India has almost $30bn local market for garments. The highest middle class population over 40cr people makes it a blessing for Indian garment sector to grow immensely.

"In addition to this India also has to cater the production requirements of its own brand makers as well as out sourcing brands, so consequently the growth of the country is everywhere in international context," describes Mr Murshedy.

"Outsourcing means looking forward from countries capable to suffice these big requirements satisfactorily, that, countries like Bhutan, Nepal or other neighboring nations for India cannot meet as better as Bangladesh can," assures he.

Mr Hassan, VP, BGMEA, one of the attendee of meeting, believes that while this increase in quota by 2mn pieces is an appreciable move but still very minimal increase with respect to Bangladesh's capacity.

"We are positive that the Indian government will allow total 61 items to be duty free, withdrawn from the sensitive list. Right now out of these 61 sensitive items, 47 items from textile and garments, and 7 garment accessories are removed from the list," the VP gives details to Fibre2fashion.

He further mentions that there is huge trade gap- trade imbalance between India and Bangladesh. It is almost $3bn now and in this financial year it will cross $3.5bn because in last financial year Bangladesh's exports was $300mn while Indian exports to Bangladesh was over $3bn which will cross $4bn whilst Bangladesh's exports to India might go around $500mn.