Warnaco posts 13% hike in Q1 net sales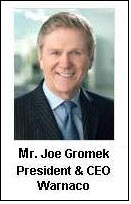 The Warnaco Group Inc reported results for the first quarter ended April 2, 2011.

Highlights for the first quarter:

• Net revenues increased 13%, to $662.2 million, compared to the prior year quarter
• Income per diluted share from continuing operations was $0.98 compared to $1.03 in the prior year quarter
• Income per diluted share from continuing operations on an adjusted, non-GAAP, basis was $1.10 compared to $1.09 in the prior year quarter (both of which exclude restructuring expenses, pension expense, tax related items and other items)
• The Company purchased 561,000 shares of its common stock for approximately $29.1 million pursuant to a share repurchase program

The accompanying tables provide a reconciliation of actual results to the adjusted results.

The Company believes it is valuable for users of the Company's financial statements to be made aware of the adjusted financial information, as such measures are used by management to evaluate the operating performance of the Company's continuing businesses on a comparable basis and to make operating and strategic decisions. In addition, the Company uses performance targets based, in part, on non-GAAP income from continuing operations and non-GAAP operating income as a component of the measurement of certain employee incentive compensation.

"I am pleased with our first quarter results, where we experienced powerful revenue growth, while we continued to invest in the future of our business," commented Joe Gromek, Warnaco's President and Chief Executive Officer. "SG&A increased 20% compared to the prior year quarter, as we expanded our Calvin Klein business, grew our owned retail (operating an additional 240,000 square feet of retail space compared to the prior year quarter, including approximately 50,000 square feet of new retail opened or acquired this quarter) and successfully implemented our largest product launch ever, ck one. These investments are expected to drive net revenue growth and translate into strong operating results over the course of the year."

"In the quarter, our Calvin Klein revenues increased 13%, international revenues were up 19% and we increased our direct-to-consumer revenues 36%, including an 8% increase in comparable store sales," continued Mr. Gromek.

"While first quarter revenues were strong, operating results were impacted by increased expense related to our direct-to-consumer expansion and incremental marketing expense. All geographies, with the exception of Europe, performed in-line with, or better than, our internal expectations.

"In Europe, gross profit was impacted by promotional activity, channel mix and increased product costs, including foreign exchange fluctuations; in addition, SG&A reflected incremental selling expense associated with the approximately 120,000 square feet of new and acquired retail in that region. Going forward, however, we expect to see positiveyear over year comparisons in Europe for the balance of fiscal 2011. "