Myer sees improvement in retail environment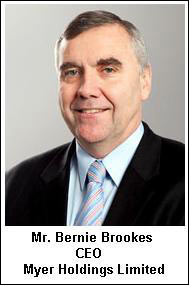 Myer Holdings Limited (MYR) reported total sales for the third quarter to 30 April 2011 of $657 million, down 2.0 percent compared to last year. On a like-for-like basis, sales were down 3.1 percent compared to last year. Sales for the quarter were negatively impacted by approximately $6 million as a result of the Queensland and Victorian floods and Cyclone Yasi.

Womenswear, menswear, cosmetics and youth were the strongest performing categories during the quarter. The electrical business continued to be impacted by ongoing price deflation in a number of electrical and console categories. The sales performance excluding the electrical business was a pleasing increase of 0.9 percent compared to last year. Sales excluding electrical were down 0.3 percent on a like-for-like basis. Our decision to exit whitegoods and re-engineer the music business also continues to impact the like-for-like sales comparison, but going forward the move will result in additional space for higher margin categories.

Customers have responded well to our rebuilt flagship store in Melbourne with sales continuing to gain momentum in line with our expectations.

During the last three months, we have continued to improve our womenswear brand offering with the signing of an exclusive wholesale agreement with the high profile Australian designer, Fleur Wood, that further enhances our womenswear range. The brand, which includes feminine and bohemian designs, will be rolled out into eight stores from July.

We were also pleased to sign an exclusive department store concession agreement with Metalicus, which will result in an increased offer and improved service model in 13 of our stores. From June 2011, a number of new International brands will arrive in our stores including Catherine Malandrino, Matthew Williamson Escape, The Row and Lee Anglomania, an exclusive range from Vivienne Westwood. We are looking forward to the official launch of sass & bide in Myer in August 2011.

Australian designer Simona is now available in ten of our stores and the rollout of Arthur Galan AG is progressing well.

Bernie Brookes, Chief Executive Officer said:
"While the last three months continued to be characterised by a cautious consumer with an increased propensity to save, we have seen an improvement in the retail environment. There was a moderate and steady improvement in sales as the third quarter progressed and we had a pleasing mid season sale, which was ahead of last year.

"We have continued with a measured and targeted investment in additional hours rostered in selected stores. Improving our level of service to customers and their in store experience remains a top priority for Myer. This is in addition to a significant investment in training, rewards and staff development in customer service practices.

"The team and I were delighted with the feedback following the formal launch of the world-class Myer Melbourne store.