JCP announces plans to drive operational effectiveness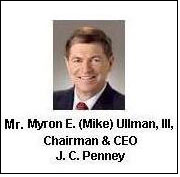 J. C. Penney Company Inc reported net income of $64 million or $0.28 per share for the first quarter ended April 30, 2011, including certain previously announced restructuring charges. Comparable store sales for the quarter grew 3.8 percent over last year driven by the Company's exclusive and private brands such as Liz Claiborne, Worthington and St. John's Bay as well as ongoing growth of Sephora inside jcpenney, MNG by Mango, Call It Spring and the successful introduction of Modern Bride.

"Our ability to deliver on our objectives in the first quarter reflects the progress we are making in executing the Long Range Plan for growth we announced in April 2010," said Myron E. (Mike) Ullman, III, chairman and chief executive officer. "We are successfully implementing our merchandising initiatives, with strong gains in both our men's and women's apparel businesses.

Additionally, the steps we have taken to manage our expenses position us to increase the flow-through of sales to the bottom line. We are accelerating this process through a series of initiatives across the Company to maximize operational effectiveness. We expect these ongoing actions will result in substantial expense savings, beginning this year, and allow us to significantly accelerate profitability."

Specifically, following on the work it has done to wind down operations that no longer deliver meaningful returns as well as significantly improve in-store execution, the Company now plans to streamline operations, carry out further process improvements across its stores, Supply Chain, and Home Office, and optimize marketing expenses, while continuing to implement its sales growth initiatives.

The positive impact of the savings generated by these actions began in the first quarter of fiscal 2011 and will grow significantly over the next two years. These expense initiatives will allow the Company to achieve its 2014 earnings target of $5.00 per share with a return to historic operating profit margin levels, even with fewer new store openings expected in the latter years of its Long Range Plan in light of challenging commercial real estate markets and other economic factors.

First Quarter Performance

Comparable store sales for the quarter rose 3.8 percent. Total sales increased 0.4 percent, reflecting the Company's exit from its catalog business. Internet sales through jcp.com were $376 million in the first quarter, increasing 6.6 percent over last year. Overall, the strongest merchandise results for the Company in the period were in women's apparel and accessories and children's apparel. Geographically, the best performance was in the southwest region of the country.

Gross margin for the quarter was in-line with the Company's expectations and decreased approximately 90 basis points to 40.5 percent of sales. The Company noted that gross margins generated from sales in jcpenney stores were up to its plan, yet, as expected, overall gross margins were negatively impacted by several factors, including the impact of certain non-comparable free shipping offers, as well as the absence of the Big Book catalog in this year's first quarter. Gross margin dollars decreased $35 million, or approximately 2.1 percent, compared to last year's first quarter.