Passing out NIFT masters students present scintillating projects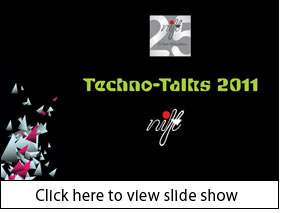 Yesterday, the first passing out batch of 23 students of Masters of Fashion Technology (2009-11) from the prestigious National Institute of Fashion Technology (NIFT) – Gandhinagar centre, presented their graduation projects at hotel Cambay Grand in Ahmedabad.

The event titled 'Techno-Talks 2011' began with the lighting of the lamp by the Director of NIFT – Ms Sameeta Rajora (IFS). She was accompanied by the chief guests, Mr Mankad, Director – Dystar India Ltd, Mr Malik – Vice-President of garments division – Soma Textiles and Mr Shekhar P, Production Manager - Gini & Jony and Prof.Pavan Godiawala C.P. Department of Technology.

The course coordinator Mr Pranav Vora informed that all students of the first passing out batch, of this centre have put in hard work during the semesters. They have also successfully completed their summer and winter internships in the different industries across the country and finally they performed very well during their Research Projects (Graduation Projects).

This was followed by a short speech by Ms Rajora, in which she congratulated the passing out batch of students and wished them a bright, rewarding and fulfilling career ahead.

She said, "This batch of 23 rising professionals is equipped with relevant knowledge of different aspects of the business. At NIFT, we produce leaders, who with their pool of talent can serve any area of the industry and come out with flying colours".

Ms Rajora expressed her gratitude to the sponsoring industries for providing the students with practical knowledge and experience of working in the industry.

Next on the agenda was a series of excellent and scintillating presentations of their graduation projects by various students.

Among a few were the ones from Anjana R, who did her project on "Lean Production System". The objective was to improve productivity at the cutting operations, to eliminate all muda, mura and muri in the flow of panels from cutting to sewing and optimize the flow of cut panels.

Paridhi Shah did her graduation project on 'Internal Supply Chain' at Silver Sparks Raymond Ltd with the intention to strengthen the information system between departments and smoothen the information flow.

Anuj Kumar presented his project on 'Standardizing the Process in Sewing Line of Formal Trousers'. The objective was to propose the best method for each and every operation, standardize a proper flow of materials and increase productivity and also standardize headcount to keep it to a minimum.

Deepika Divakaran presented a project on 'Lean Approach for Sampling Process in Merchandising' with a view to sampling waste identification in apparel production and thereby reduce waste thorough suitable lean tools.

Another outstanding project presentation came from Mayank Jain who did a project on 'Implementation of IDEFO' at Vardhman Nisshinbo Garments Co. Ltd in order to streamline information flow across the factory production lines.