NILIT's BodyFashion & Activewear trends for S/S 2013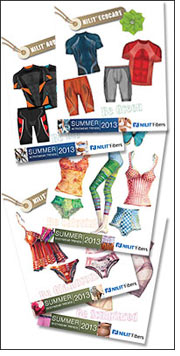 NILIT announced its new trend concepts for bodywear and active-sports wear for Spring-Summer 2013 which will be presented in the NILIT BODYFASHION TRENDBOOK.

For Spring-Summer 2013. NILIT anticipates a dynamic season in which the world of bodywear and activewear offers a limitless range of inspirational products that are a combination of both creativity and innovation skillfully engineered to provide comfort and performance while they enhance and flatter the body.

This season, bodywear will be a fusion of function and self-expression as the mood varies from ultra-glamorous and romantic to youthful and exuberant. The demand increases for shapewear that combines comfort with control and lingerie which is functional as well as seductive. Activewear products are clearly becoming more up-market and attracting attention thanks to their sophisticated and dynamic styling and performance attributes. Whether it is a look of subtlety and simplicity or high-powered protection, products carry an underlying message of creativity and innovation.

Innovation is the key at NILIT and our consistent leadership in technology and innovation sets the standard for nylon 6.6 yarns globally. NILIT continues to be at the forefront of cutting-edge yarn technology and its unique and diverse products continue to open new vistas of innovation and creativity. NILIT's advanced expertise and comprehensive product range will provide you with an unlimited source of inspiration to create products that are one step ahead in fashion and increased technical performance.

The NILIT trendbook defines the bodywear and activewear trends for Spring-Summer 2013 and highlights the yarn innovations suited to these trends. Let the NILIT Trendbook inspire you to create the dynamic products which will lead the fashion trends for the coming season.

BE SCULPTURED / NILIT INNERGY
Toning the body and concealing imperfections makes shapewear the ally of the modern contemporary woman, as body-fitted garments place curves in the spotlight. The quest continues to create new products which incorporate style and performance properties with a glamorous touch. Seamless technology redefines shapewear and beyond providing effective support, slimming shapewear fights the appearance of cellulite, has a soft feel and boasts easy-care properties. NILIT INNERGY yarn revolutionizes shapewear by helping to reduce the appearance of cellulite.

BE COLORFUL / NILIT WORLD OF COLOR
A young and exuberant spirit is expressed in creative bodywear featuring ethnic geometric patterns in flamboyant color combinations and an explosion of retro hippie flowers. Innocence and freshness for a junior market are captured in colorful patchworks of small motifs combined eclectically. NILIT's colorful concept meets the need for high-fashion multi-colored bodywear by combining innovative yarns to produce a spectacular mix of colors. NILIT Colorwise, Pastelle, Duelle and Arafelle yarns yield distinctly colorful effects in one regular dye process.