Pampers to get Rosie Pope style this summer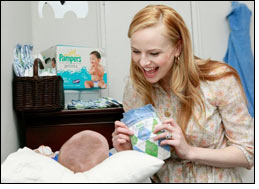 After a bleak, drab winter, the time has come to revamp wardrobes with fashion-forward pieces that lend to a joyful summer, and among the hottest on-trend styles for the upcoming season is the print.

To give moms and their babies the chance to stay stylish, Pampers has unveiled their newest diaper line Pampers Limited Edition Prints. These summer diaper offerings combine utility and aesthetics, so little ones can feel just as fashionable as they are comfortable in their biggest wardrobe staple, their diaper!

"Pampers prides itself on being at the forefront of not only comfort and performance, but also style," commented Fama Francisco, General Manager of P&G Baby Care, North America. "A diaper is the foundation for your baby's wardrobe, so naturally we want it to be special. While performance always comes first, we know that design is also important. Pampers Limited Edition Prints combine form and function with stylish design suitable for this summer season."

As part of the launch of Limited Edition Prints diapers, Pampers teamed up with maternity designer and television personality Rosie Pope to interpret this season's hottest trends for moms and babies who want to look their best.

"Recently, when my toddler and I had a day to ourselves, we visited the museums of New York and were both excited by the colorful works of artists like George Seurat," commented Pope. "Since then, I have been so inspired by colorful patterns that I've carried that theme through my summer line. I truly believe women can express their personality through printed apparel to create the best looks from casual-chic to mommy glam!!"

Pope recommends building out your summer wardrobe by incorporating printed pieces:

• Whether you're an expectant mom or a new mom, try a floral-print maxi dress – a style that is flattering for all body types. And don't be afraid to show some leg; knee-length versions of the maxi dress can be just as flattering. Pair your dress with a basic black cardigan, a wardrobe must-have, for a more versatile look.
• Plaids are another fabulously fresh print for summer, and can work perfectly in a more casual setting. Try a crisp plaid shirt with basic white shorts, which pairs beautifully with a simple wedge.
• Take the classic shirtdress and make it your own by finding one in a pattern that feels fresh and lively. Accessorize with a long chain necklace for a vertical and flattering everyday look.

"And since this year's summer fashion revolves around prints and patterns, why not offer your baby the same style sense?" adds Pope. "Pampers Limited Edition Prints offer performance and style for your little trendsetter."

Since moms and babies will likely be frequenting outdoor birthday parties, trips to the zoo and plenty of playgroups in the park this summer, Pope advises to snag these styles for baby:

• Fashion your little man in the classic cuteness of madras shorts or overalls and a tee. It's the perfect getup for playing or visiting grandma.