Apparel sector to adopt scientific fit practices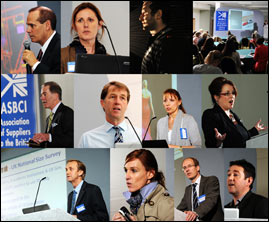 ASOS.com, Boden, Burberry, Burtons and BHS menswear, Dorothy Perkins, George, Joules, Marks & Spencer, Monsoon, Mothercare, Next, Topman, Topshop and Peacocks were among nearly 200 delegates to attend the seminar at the ASBCI's two day interactive sizing and fashion technology workshop and seminar held recently at the Leicester Tigers, Welford Road Stadium.

Speakers gave delegates a vision of fashion's future in a series of presentations that put the shape of the global consumer at the heart of consumer 'fit' and retail success. With the "decade of quantity" behind us delegates were urged to enter a "decade of quality" where value, quality and consistency would give more consumer satisfaction and uplift sales.

State of the art technologies such as 3D body scanners that generate detailed shape data by age, gender, ethnicity and geographic area are already playing a major role in making fashion fit more consumers better and this is predicted to increase as the technology is developed for home use and in retail outlets.

The seminar programme opened with apparel fit expert Ed Gribbin, president, Alvanon Inc., who tackled the consumer "fit frustration factor." He argued that: "The disposable fast fashion decade of quantity is finished" and the consumer demand for value, quality and consistency will drive a new "decade of quality." Fashion success will depend on satisfying consumers' demands and 'fit' plays a key role in securing a purchase and preventing a return.

In the face of a UK and European population in which two-thirds of its female population is obese he urged fashion suppliers to abandon the old idealistic "hourglass or athletic build" fit standards. He explained it is time to adopt scientific fit practices and processes based on real consumer shape data generated by 3D body scanners and design garments on 3D virtual Avatars and customised technical fit forms. For brands that achieve a consistent fit the reward will be customer loyalty, increased full price sell through and reduced returns. He concluded: "Communication is key – tell your target customers why your fit is better for them." To this end Alvanon is currently developing a new consumer shape and fit mobile app – to be launched in 2012.

Karen Schiller, senior consultant fashion, Lectra agreed: "Global morphology is very varied so fashion suppliers should go to size surveys to identify their target consumer demographic, then generate body measure charts for their consumers that can be translated into design and pattern charts." 3D design prototyping on realistic idio-parametric Avatars allows designers to create styles with visually correct proportions across the entire target size range and in over 140 fabric types. "There is no investment in fabric or shipping and it allows for fine tuning before any physical samples are made saving time and money."

She added: "Making clothes that look good for size 8, 10 or 12s is easy but making clothes that fit well on size 14 plus is more challenging…Some fashion companies are still making five or six physical samples of a design before approval." Design in a virtual environment is the future because ironically it is based on body data from real people.