PPR's tender offer for Volcom gets necessary antitrust approvals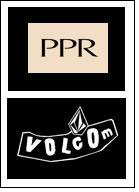 PPR S.A. and Volcom Inc jointly announced that they have received all necessary antitrust approvals applicable to PPR's tender offer for all of the outstanding shares of common stock of Volcom at a price of $24.50 per share in cash.

The transaction is subject to the satisfaction of the remaining customary closing conditions. As previously announced, PPR's tender offer for Volcom is currently scheduled to expire at 5:30 p.m., New York City time, on Thursday, June 16, 2011, unless further extended.

Volcom is an innovative designer, marketer and distributor of premium quality young mens and womens clothing, accessories and related products. The Volcom brand, symbolized by The Stone, is athlete-driven, creative and forward thinking. Volcom has consistently followed its motto of "youth against establishment," and the brand is inspired by the energy of youth culture.

PPR nurtures a group of high-growth global brands distributed in more than 120 countries. Through its Consumer and Luxury brands, PPR generated revenue of €14.6 billion in 2010, and had approximately 60,000 employees at December 31, 2010.

PPR S.A.