Surge of New Area 4 Showrooms at LA Fashion Market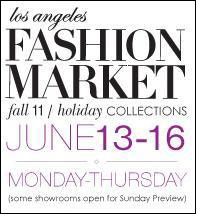 The California Market Center (CMC) will host the Fall II/Holiday 2011 Los Angeles Fashion Market (LA Fashion Market), Monday – Thursday, June 13-16, 2011, with showrooms open by appointment only on Sunday, June 12, 2011.

Visiting retailers will be able to preview established and emerging collections for women, men, children, gift and home in hundreds of permanent showrooms and temporary tradeshows including SELECT Contemporary Tradeshow, FOCUS Apparel & Accessories Show and TRANSIT LA Shoe Show. Registered retailers are also invited to attend an expanded list of special events including the F2 Runway Show, free POP Beauty manicures and an Opening Night Cocktail Reception in the CMC Lobby.

One of the three new showrooms debuting this Market on Area 4 (fourth floor, B-wing) is Epic Collective, located in suite B498. "We are thrilled about our new location," said owner James Vaccaro. "It's exciting to be in the company of such great showrooms. We think our contemporary brands will thrive here." Epic Collective carries Flud Watches, Hex Accessories, Mitchell and Ness, NAU, Nooka and Noon Copenhagen.

Additional new Area 4 showrooms include The Market Showroom (B403), housing contemporary brands for men and women such as Bench, Dex, Artisan Deluxe, ZH Collection, B.T.N.S and Oliver Rayn, as well as Original Penguin's West-Coast headquarters located in suite B486.

Other notable new showrooms and lines debuting include GlamAmor, a contemporary multi line showroom in suite A1179, Liza Christina Kids, located in suite A640, Ringspun and Alplinestars (Derelicte, suite B445), Shar K handbags (A.N.D.M., suite A1094), Seven Seas (Fred Postal, suite A301), Saako Organic Neckwear (Strut L.A., suite A1084), Corida (Rep et Trois, suite A294), Raquel B Designs (Impulse Moda, suite C578), Cartise (Lynn Girard, suite C585), Pacific Blue Sunglasses (Bennett Flicker, suite C401) and many more.

Buyers looking for a break during their Market appointments can stop by the Oliver Ifergan Pop Up Salon in suite B579, offering complimentary blow drys and trims Monday – Wednesday from 12:00pm – 5:00pm. Lucky shoppers who write orders on 2A (second floor, A-wing) will also automatically be entered to win a complimentary hotel night at a CMC host hotel for next Market.

In celebration of LA Fashion Market, the CMC will host an Opening Night Cocktail Reception, Monday, June 13, from 5:30pm-8:00pm in the CMC Lobby co-sponsored by LA Fashion District. Registered retailers and industry guests will enjoy a sponsored bar, appetizers, live DJ performance by Annette Lamothe-Ramos, fashion editor of VICE Magazine, and a raffle featuring items from Twinkle by Wenlan, The Frye Company and Mon Bijou, benefiting the Downtown Women's Center. Additional event sponsors will include Balloon Divas and Two Point Oh LA.

SELECT Contemporary Tradeshow, FOCUS Apparel & Accessories Show and TRANSIT LA Shoe Show will all take place Monday, June 13, 2011 – Wednesday, June 15, 2011, and feature an expanded selection of apparel, accessories and shoe brands for retailers to shop from. SELECT, located in the Fashion Theater, will showcase upscale contemporary brands like Twinkle by Wenlan, Poleci, Sam Edelman, Azaara, Minnie Rose, Voom by Joy Han, Magaschoni, Sophie Monet Jewelry, Pour La Victoire, Bella Luxx, Gorjana and many more. Retailers are invited to stop by the new SELECT Lounge featuring daily morning coffee and fresh pastries sponsored by Urth Caffe, 100% pure coconut water by Vita Coco and GLAMGLOW mud mask facials. POP Beauty will also sponsor "On-The-Go Manicures" Tuesday, June 14, from 12:00pm-4:00pm, which will also be available at FOCUS Apparel & Accessories Show, located in the Penthouse, A-wing.