RMG key pillar of Canada-Bangla trade: Canadian envoy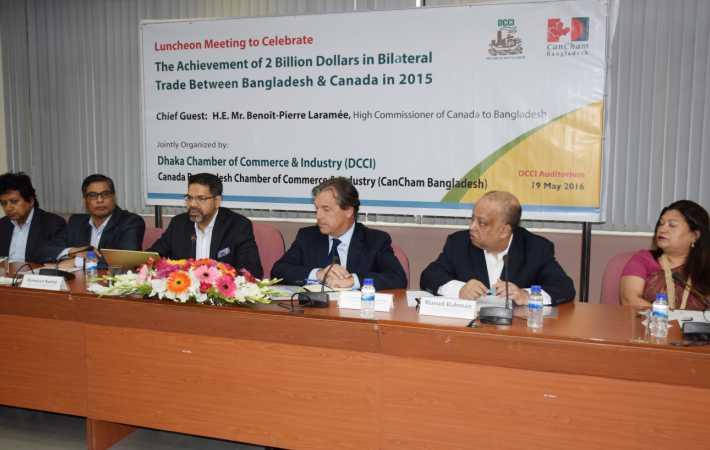 Canadian high commissioner to Bangladesh Benoit-Pierre Laramee has said that the garment sector is one of the key pillars of the relations between the two countries with many of the largest Canadian apparel retailers sourcing products from Bangladesh.

He was speaking at an event entitled 'Celebration of $2 billion worth of trade between Bangladesh and Canada in 2015' jointly hosted by CanCham Bangladesh and Canada in Dhaka on Thursday.

Businesses at the discussion stressed that diversifying products and export destinations are vital for Bangladesh to attain the target of $50 billion exports within 2021.

Laramme underscored the need for enhancing business to business linkage between the business communities of the small and medium enterprise of Canada and Bangladesh to make a breakthrough in their trade relation.

The Canadian envoy was optimistic that the trade volume would rise soon from $2 billion to $3 billion. "As Bangladesh develops, our bilateral relationship is shifting from aid to trade. Canada remains a significant provider of development assistance to Bangladesh, but increasingly this assistance is focused on strengthening Bangladesh's ability to compete in the global economy. The remarkable rise in our bilateral trade over the past 15 years shows that this shift is happening quickly."

He said Canada wants to see more prosperity and development of Bangladesh's RMG sector and that his country would continue its assistance to Bangladesh's RMG sector to ensure workers' safety.

Canada contributes eight million Canadian dollars to the International Labour Organisation to help the Bangladesh government build its capacity to ensure that workplaces are safe.

Earlier this year, Canada joined the Sustainability Compact, which Bangladesh had signed with the EU after the Rana Plaza building collapse, committing to responsible business behaviour.

In his welcome address Hossain Khaled, President, Dhaka Chamber of Commerce and Industry (DCCI) said Canada is the 7th largest single market export destination of Bangladesh which has become possible due to continuous GSP facility extended to enhance our access to Canadian market during the last decade. He also pitched for more Canadian investment in Bangladesh.

"The export of Bangladesh to Canada is worth of $1.4 billion against the import of $0.6 billion. Despite Bangladesh and Canada enjoying healthy trade growth, Canadian investment in Bangladesh is still very insignificant," he said. He also invited Canadian investors to invest in agriculture, jute, pharmaceuticals, ship-building, ICT and automotive sector of Bangladesh.