Workers at risk in unregulated apparel factories in B'desh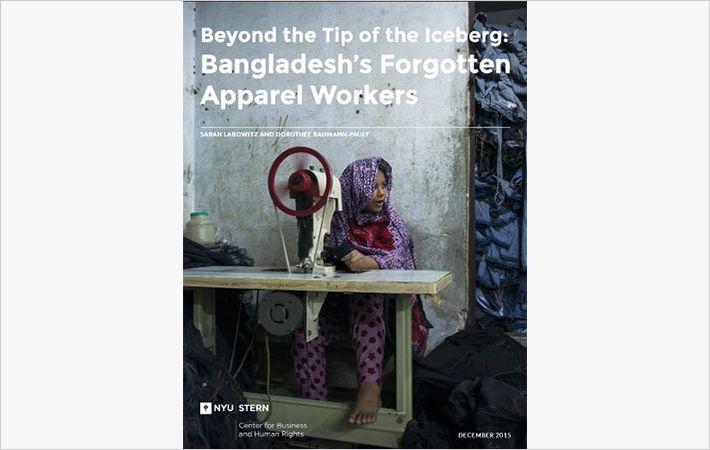 A groundbreaking research by New York University Stern Center for Business and Human Rights has revealed that workers at majority of Bangladeshi factories producing for export are unprotected by safety initiatives.

According to the research, there are more than 7,000 garment factories in Bangladesh producing for the global fashion industry, 65 per cent more than previous estimates. More than half of these factories are small and medium-sized indirect sourcing factories, meaning their workers produce for foreign brands through other, larger factories. These factories operate in the shadows. The result is that millions of workers in subcontracting factories fall outside the protection of international safety-improvement initiatives, and are especially vulnerable in a country where unsafe working conditions are a chronic problem.

While global brands, governments in North America and Europe, and international lenders have announced commitments of more than $280 million for the garment sector in Bangladesh, to date, only a handful of factories have been fixed, the research paper said.

These are among the findings of a year-long study of the Bangladesh garment sector released by the NYU Stern Center for Business and Human Rights on December 17. The study is co-authored by Sarah Labowitz and Dorothée Baumann-Pauly. The Center's report, "Beyond the Tip of the Iceberg: Bangladesh's Forgotten Apparel Workers," has been published ahead of the third anniversary of the tragic collapse of the Rana Plaza factory complex, which killed almost 1,200 workers in April 2013.

Based on an exhaustive review of five publicly available datasets of factories, as well as field research in Bangladesh, the report provides the first comprehensive factory analysis of a major garment exporting country at the national level.

"Our research shows that indirect sourcing is an essential element of Bangladesh's low-cost, high-volume model of garment production," said Sarah Labowitz, co-director of the Stern Center for Business and Human Rights and a Research Scholar at Stern. "Though global brands assert that they have strict policies against unauthorized subcontracting, in reality, millions of workers at thousands of smaller factories are producing their goods. Working in these factories is often highly risky, yet virtually no international resources are being applied to them."

The report also took into account two factory safety programmes, the Accord and the Alliance, which were initiated after the Rana Plaza tragedy in 2013 by more than 200 global brands and retailers. Through these two widely publicized initiatives, North American and European brands announced commitments to spend up to $100 million over five years to improve factory safety. The report concludes that these two initiatives are narrowly focused on a subset of direct exporters, encompassing only 27 per cent of factories in Bangladesh. Almost 3 million garment workers are excluded from these programmes.