Brands take to the Middle East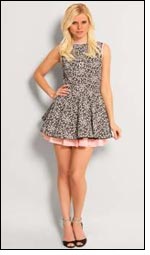 With the Middle East-Fashion Days only a month away, a range of top Pure London exhibitors have confirmed to be exhibiting in the Pure Selection. Excitement is building around the trade show, as a host of new features, catwalks and a top list of international brands confirmed to exhibit. Middle East Fashion Days will take place from 19th – 21st October 2010 in Dubai.

Womenswear brand AngelEye will be bringing their collection inspired by London's street culture with a wide range of fun, quirky and cool tops, skirts, dresses, jackets, playsuits and leggings.

'We have decided to exhibit in the Pure Selection as we would love to build our brand awareness within the Middle East. There is a great audience to reach out to and being part of Pure Selection gives us the perfect opportunity.' Samantha Marchant, Sales and Marketing Executive of AngelEye Fashion commented.

Pure London favourite, Mischa Barton, will be bringing her infamous handbags to the show. The Autumn/Winter 2010 collection takes inspiration from vintage pieces found in flea markets and boutiques around the world. The range incorporates the charm of these vintage items with modern inspirations to create sophisticated and expressive styles, in keeping with Mischa Barton's distinct personal style.

Tony Hague from Mischa Barton handbags commented 'We have decided to exhibit our Mischa Barton collection in Dubai because of the volume of traffic to our website from the Middle East; it's great that we can bring the collection with Pure London.'

Accessory brand Ashiana will be showcasing their stunning collection of silver and fashion jewellery with an alluring range of semi precious stones. Their classic collection is made with silver and adorned with natural stones and freshwater pearls, while their costume collection is metal based and plated 22k gold.

A spectacular feast of colours and textures sourced from around the world is present in both collections. Each piece is then designed in London and lovingly handmade.

'We have been approached in the past by many Middle Eastern clients who are keen to buy our collection more locally so when this show was announced it made sense that this was the perfect platform to launch our label in the region. We are creating a special collection just for this show - and as all of the pieces are adorned in a 22k gold plate with vibrant stone and enamel colours we are sure this collection will be a "must see!" commented owner Anastasia Buisman.

Me & Thee, will be at the show with their collection of unique digital imagery printed on silk and jersey in shapes which are inspired by the female form and are both sophisticated and wearable. Ultra cute label Darimeya has taken the fashion world by storm since it was founded in 2003, with its signature feminine prints and quirky style. A favourite among fashionistas including Kate Moss, Peaches Geldof and Keisha, the collection is set to continue its success across the Middle East.