We view Indian market as one of opportunity - Bharti-Walmart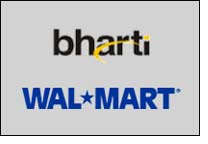 Bharti Enterprises is one of India's leading business groups with interests in telecom, agri-business, financial services, retail and manufacturing. Bharti Airtel, a group company, is one of Asia's leading providers of telecommunications services.

Bharti Retail is a wholly owned subsidiary of Bharti Enterprises. Bharti Retail operates a chain of multiple format stores that offer consumers affordable prices, great quality and wider choice. The company's neighbourhood format stores operate under the "Easyday" brand and the compact hypermarket format under the "Easyday market" brand.

Bharti Walmart is a 50:50 B2B joint venture with Walmart, for wholesale cash and carry and back-end supply chain management operations under the name of 'Best Price Modern Wholesale'. It will also manage backend logistics and provide technical support to Bharti Retail, which will set up multiple-format retail stores that are 100% owned and operated by Bharti.

'Best Price Modern Wholesale' opened its first store in Amritsar in June this year and will offer 6,000 food and non-food items at competitive wholesale prices and will cater to the small stores, fruit and vegetable sellers, restaurants, hotels and other business outlets.

Fibre2fashion spoke exclusively with Ms Arti Singh, Vice President, Bharti-Walmart. We began by asking her to describe the current situation of retail business in India, to which she said, "In accordance with current FDI guidelines, Bharti Wal-Mart is not operating in front-end retail in India.

"However, we view the Indian market as one of opportunity and potential and believe that retail in India is an engine of growth not just in urban India but also in Tier II and Tier III towns offering more job opportunities and helping families to save money so they can live better. India is one of the most exciting countries in the world today and we welcome an opportunity to play a part and contribute to the country's growth momentum.

"As we've studied the Indian market, we've been impressed by what we are constantly learning and given the current growth rates; India has the potential to be one of the largest retail markets in the world within a decade. As very little organized retail exists today (only 4-5 percent of the market share), India is one of the largest organic growth markets in the world. India has a growing middle class and a growing consumer attitude.

"Consumers in India are now beginning to appreciate the modern shopping experience and Walmart believes it can play an important role towards enhancing this experience. A critical learning that the Indian market has validated is the fact that that modern retail and wholesaling and traditional kirana stores will co-exist in this country for years to come.