Govt identifies three emergent challenges to export growth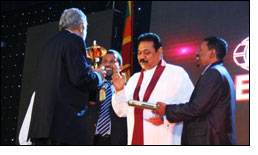 Sri Lanka is mooting a single coordinating mechanism consisting of vital government departments to sustain its long term exports upswing. Sri Lanka has also identified three emergent challenges to future exports growth, according to Rishad Bathiudeen, Minister of Industry and Commerce.

"Sri Lanka needs to firmly focus on a collaborative approach to overcome emergent challenges so that our export growth momentum will continue. We need to promote a Cross Functional Team styled mechanism that involve the vital stakeholders in our exports. The inter-departmental coordination of all concerned government departments and Ministries such as the customs, Environment Ministry, etc is essential" added Minister Bathiudeen.

Minister Rishad Bathiudeen was addressing the Presidential Export Awards 2007-2009 held on 28 June at the Temple Trees under the patronage of President Mahinda Rajapaksa.

Minister Bathiudeen has identified three emergent challenges to Sri Lanka's exports. "I should caution that we now have to face a number of serious challenges in the export sector. First is that our export volumes have showed strong resilience even when a three decades of terrorist war and a highly volatile global economic climate was battering our country.

"You may wonder as to how such an achievement has turned to a challenge. As we embrace a new economic upswing in a peaceful Sri Lanka and also entering a recession free global market, we are now compelled to demonstrate much stronger export growth statistics than ever before. The second crucial challenge is that any economic growth trend, however promising, cannot go on indefinitely.

"There should be concerted efforts by all stakeholders to sustain the growth specially in the context of both local and international economic cycles, and other vital factors such as global production process sharing, that may pose strong challenges to our current positive exports cycle. The third and most important challenge is the greening process of our manufacturing and agro sectors.

"Going green has now become not only fashionable but even profitable. The idea is gaining increasing importance due to the competitive advantage it brings to our manufacturing and exports along with increased cost savings. In fact I wish to reiterate my statement on last May 4th that Going Green could be the future for our industries.

"I think you would agree that there may not be industrial excellence or international greatness for us if our precious environment is left to suffer. In fact, it is in these three challenges that the strength of our export development strategy of sustained diversification, outsourcing, value addition and integrating to the emergent international value and supply chains will be tested" Minister Bathiudeen said.

According to international analysts, after 30 years of lacklustre exports performance, Sri Lanka has recorded a 45% exports growth in the first four months of 2011. An 18% annualised growth in Money Supply stimulus combined with a policy of steadily held interest rate has brought an appealing credit outlook and rate of return for investors. The 2011 first quarter also reported resilient industrial output exceeding 10%.