Leather exports to touch $5.4 billion by 2014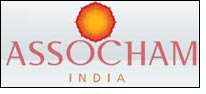 Despite slowdown in European economies, leather exports from India are likely to register a growth of 13% and touch $5.4 billion by 2014 from the current level of $3.8 billion, according to the latest study undertaken by apex chamber ASSOCHAM.

The leather industry currently employs over 3 million workers. "With a strategy in place, the number of potential employees can rise by another 3 million in next 5 years since the potential of leather industry is yet to be harnessed," said The Associated Chambers of Commerce and Industry of India (ASSOCHAM).

Exports of leather and leather products have risen from US$ 3404.57 million in 2009-2010 to US$ 3844.86 million in 2010-11, recording a positive trend of 13%. India has a 3.5 per cent share in the global leather trade and ranks eighth in the world in terms of the country's foreign exchange earnings from the industry. The composition of exports has also been changing, with more focus on value added products.

The major markets for Indian leather products are Germany with a share of 14.34%, UK 12.80%, Italy 11.52%, USA 8.72%, Hong Kong 8.11%, France 7.07%, Spain 6.31%, Netherlands 3.98%, Belgium 2.02%, U.A.E.1.92%, Australia 1.30%. These 11 countries together accounts for nearly 78.09% of India's total leather products export.

Export of leather & leather products to Germany, USA, UK, Italy, France, Hong Kong, Spain, Netherlands, Russia, New Zealand, Canada, South Africa, UAE and Japan have shown positive growth during April-March 2010-11.

On the other side, exports to Australia, Greece, Switzerland, Portugal, and Ireland have shown a decline.

Export of different categories of footwear alone holds a major share of 45.05% in India's total leather products exports, with an export value of US$ 1732.04 million.

Some of the items of the leather industry, viz. leather shoe uppers, leather sandals and chappals, leather garments, industrial leather gloves, leather suitcase and travel goods, leather purses and hand bag, fancy leather goods and novelty items, watch straps and leather straps of all types are still reserved for exclusive manufacture by the small scale sector.

Small scale sector units are defined in terms of investment in plant and machinery. Others can manufacture these items after obtaining industrial licence, which is granted subject to an export obligation of 50 per cent of the production each year.

Among the categories which registered maximum growth in the last fiscal are leather footwear (37.98%), leather goods (21.19%), finished leather (21.09%), leather garment (10.43%), footwear components (5.59%) saddlery and harness (2.24%) and non- leather footwear (1.47%).

Mr. D S Rawat, secretary general ASSOCHAM said that leather industry can transform itself for complete turnround with increase in tanning and production capacity to cater to huge footwear market.

The chamber study said an estimated 15% of total purchase of leading global brands in footwear, garments, leather goods & accessories in Europe is outsourced from India. Being the second largest manufacturer of leather garments & footwear, mainly all companies in India are ISO certified companies and they all meet the international ethical engagement criteria. Leather industry has a large scope to grow in near future.