BDS report on Kolkata Leather Cluster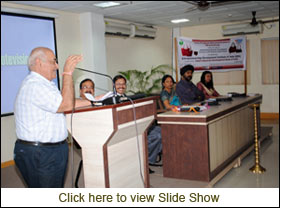 'Implementing Business Development Services (BDS) in the Kolkata Leather Cluster' a project especially designed for improving the accessibility of consultancy services related to business development of the Kolkata Leather units had completed two successful years.

The aim of the project was to primarily benefit the Micro, Small and Medium Enterprises so that they could avail of the services related to this.

This project has been supported by Small Industries Development Bank of India (SIDBI) and its strategic partners World Bank, Department for International Development (DFID), KfW, GIZ and facilitating node, Entrepreneurship Development Institute of India (EDI), a premiere institute for entrepreneurship training in Ahmadabad.

At the end of two years, after much intervention in different strategic thrust areas like skill, design, unorganized sector, brand building overseas and the like, the most notable outcome of this effort has been the establishment of linkages between the MSMEs and the Business Development Service Providers (BDSPs/Consultants) of the Kolkata Leather Cluster.

Hence, to celebrate the progress of the activities and spread the message of BDS Market Development amongst various cluster stakeholders, an event / workshop had been organized in the premises of Freya – IIDF, Bantala on 11th of November, 2011, from 6:00 p.m. to 9:00 p.m. wherein some of the primary consultants or BDSPs of the cluster had received the opportunity of interacting with the proprietors of some important MSMEs and exchange their views.

The workshop began with the Inauguration Ceremony and lighting of the auspicious lamp by Smt. Nirajita Srinivasan, General Manager, Small Industries Development Bank of India (SIDBI) along with other dignitaries present viz.

Sri Darshan Singh Sabharwal, President, Indian Leather Products Association (ILPA), Sri Paresh Rajda, Regional Chairman, Council for Leather Exports (CLE), Sri Tapan Nandy, Secretary, ILPA Infrastructure Development Foundation (IIDF), Smt Sangeeta Agasty, Deputy General Manager, Foundation for MSME Cluster (FMC) and Sri Sanjay Pal, Project Director, Kolkata BDS Project, EDI.

The inauguration ceremony was followed by Handing over of the Project Documents like the Audio - Visual Training Manual, International BDSP Directory, Domestic BDSP Directory, Japan Market Survey Report and Domestic Market Survey Report to the institutional heads of the above mentioned BMOs or Associations so that the MSMEs can directly approach these Associations for support - a very important part of the project commonly known as the 'Handing-over of Responsibility'.

The main purpose of the SIDBI-aided project was to establish linkages between MSMEs and the BMOs and BDSPs so that after a certain point of time, without any financial or facilitating support the micro, medium and small enterprises can function independently.

Hence, keeping this above objective in mind, the responsibility of the formation of BMO Help Desk and upgradation of Library by project support had been handed over to ILPA Infrastructure Development Foundation (IIDF).