259 USDA offices proposed to be closed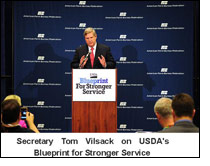 The U.S. Department of Agriculture (USDA) must be built to meet the evolving needs of a 21st century agricultural economy, Agriculture Secretary Tom Vilsack said on Jan. 9 in presenting USDA's Blueprint for Stronger Service, a plan that helps producers continue to drive America's economy by streamlining operations and cutting costs.

"The USDA, like families and businesses across the country, cannot continue to operate like we did 50 years ago," said Vilsack. "We must innovate, modernize, and be better stewards of the taxpayers' dollars. We must build on the record accomplishments of farm communities in 2011 with a stronger, more effective USDA in 2012 and beyond."

The Blueprint for Stronger Service is based on a Department-wide review of operations conducted as part of the Administration's Campaign to Cut Waste, launched by President Obama and Vice President Biden to make government work better and more efficiently for the American people. The agency took a hard look at all USDA operations, from headquarters to field offices. The end result is a plan that will create optimal use of USDA's employees, better results for USDA customers, and greater efficiencies for American taxpayers.

"As part of the Campaign to Cut Waste, the President and I asked all Cabinet Secretaries to make tough choices within their departments to save taxpayer money, eliminate government waste, and allow us to invest in the programs and services the American people need. This announcement by Secretary Vilsack is another example of how this can be done," said Vice President Biden.

"By undertaking a thorough and thoughtful review of his Department, Secretary Vilsack has saved taxpayers millions in travel and printing costs and is consolidating more than 700 different cell phone contracts into about 10. What's more, the Department is finding significant savings by consolidating more than 200 offices across the country while ensuring that the vital services they provide are not cut."

"In the past few decades, U.S. agriculture has become the second most productive sector of the American economy, thanks to farmers adopting technology, reducing debt, and effectively managing risk," said Vilsack.

"These are lessons from which we can all learn. As we continue to invest in rural communities across the country, USDA has heard from producers about reducing red tape and the need to modernize its services. Today, we are answering the challenge by announcing a series of efforts to help us continue to streamline operations, make the best use of taxpayer resources, and provide the best possible service to the American people."

The USDA will close 259 domestic offices, facilities and labs across the country, as well as seven foreign offices. In some cases, offices are no longer staffed or have a very small staff of one or two people; many are within 20 miles of other USDA offices. In other cases, technology improvements, advanced service centers, and broadband service have reduced some need for brick and mortar facilities.