Eastman earns award for protecting the environment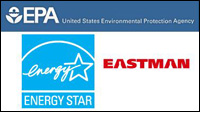 The U.S. Environmental Protection Agency (EPA) has named Eastman Chemical Company as a 2012 ENERGY STAR Partner of the Year for strategically managing and improving energy efficiency during 2011. Through its partnership with the ENERGY STAR program, Eastman has improved its energy performance, saved money and helped to protect the environment for future generations.

Eastman is one of only two chemical companies to ever achieve the distinction of ENERGY STAR Partner of the Year. A total of 40 organizations from about 20,000 ENERGY STAR Partners are being honored this year. In choosing Eastman for the award, the EPA recognized Eastman's dedication to saving energy, its commitment to measuring and tracking progress, and its efforts to communicate the importance of energy efficiency to a wide audience, distinguishing the company as an industry leader.

"Eastman is pleased and honored to be named an ENERGY STAR Partner of the Year for 2012," said Jim Rogers, chairman and chief executive officer of Eastman. "This recognition confirms our efforts in achieving energy efficiencies in our operations and is a key part of our commitment to being a sustainable chemical company. We are proud of Eastman's partnership with ENERGY STAR and our energy management accomplishments."

The ENERGY STAR program provides a proven energy management strategy that has helped Eastman achieve important reductions in energy use and greenhouse gas emissions. Key accomplishments of Eastman's award winning energy management program include:

• Energy savings in 2011 equal to $11.6 million and 357 million pounds of greenhouse gas emissions (equal to emissions from 31,000 cars)
• $7.5 million in savings from a corporate-wide steam leak repair initiative
• Establishment of an $8M budget dedicated to energy improvements in 2011
• Formation of an energy assessment process that identified over $650,000 in savings
• Employee involvement in the ENERGY STAR "Change the World" program resulting in the removal of over 16 million pounds of greenhouse gas emissions (equal to emissions from 1434 cars)

Sharon Nolen, manager of Eastman's corporate energy program, added, "This award is a culmination of the efforts of many, including excellent support from management and engagement of employees. We have also benefitted from our partnership with ENERGY STAR, both through the resources they offer and through collaboration with other ENERGY STAR Partners."

"As we celebrate the 20th anniversary of the ENERGY STAR program, EPA is proud to recognize Eastman with the 2012 ENERGY STAR Partner of the Year Award," said EPA Administrator Lisa P. Jackson. "Eastman and all our ENERGY STAR award winners are improving the energy efficiency of the places where we work, play and learn, which is good for our climate, the health of our economy, and our future."

EPA's annual ENERGY STAR Awards honor organizations that have made outstanding contributions to protecting the environment through superior energy efficiency.