Pantofola d'Oro shoes make way into US for first time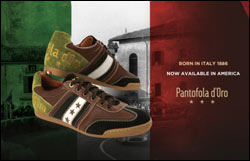 Let the European invasion begin. Pantofola d'Oro is a name that any European sports enthusiast knows. It is the brand that has served the world's greatest athletes and champions since 1886 when the Lazzarini Cobbler Shop was founded in Ascoli Piceno, Italy.

For decades, Pantofola d'Oro was the most prominent name in soccer cleats throughout Europe and dominated the European landscape. International football (soccer) stars recognized the handmade shoes as the ultimate in style and performance. This month, the brand makes its way to US soil for the first time ever.

There will be a limited production of shoes made available to select retailers and online at www.pdoitalia.com. Every Pantofola d'Oro shoe is still hand made, following the tradition put in place by the Lazzarini family. The calfskin leather that was first utilized in the 1940s for soccer players, wrestlers, boxers and cyclists is still utilized in select styles offering unparalleled comfort.

Unlike many mass-produced brands, Pantofola d'Oro focuses on extremely limited production with unique combinations of materials, colors and designs. This also allows for special make up (SMU) or "one-off" shoes to be designed for celebrity ambassadors and retail partners alike.

US celebrities were introduced to Pantofola d'Oro earlier this year at gifting suites and red carpet events. Not only was the strategy successful, but the stars' passion for the shoes resulted in some A-List celebrities asking to become investors in the company.

The list of celebs who are wearing Pantofola d'Oro shoes includes: Adam Levine of Maroon 5, David Hasselhoff, Zac Efron, Estelle, Lil' Jon, Ryan Braun and scores of others. From Real Housewives of Orange County to MMA fighters to MLB's MVP and NFL's superstars, the love affair with Italian design and craftsmanship has made the "Golden Slipper" the most sought after footwear since Cinderella's glass slipper.

Marco Massini, (Pantofola d'Oro partner), explains, "We are a premium brand. We've always held ourselves to a higher standard and we are immensely proud of our Italian craftsmanship. Embracing our old world heritage, we are bringing a new soul to the American market. We offer products that are uniquely designed and overwhelmingly appealing to the sophisticated consumer."

There is currently a mass appeal and sex appeal for everything soccer. The amazing popularity of athletes like Hope Solo, goalkeeper of the US Women's national soccer team, and David Beckham of the Los Angeles Galaxy have significantly driven sales of soccer-inspired apparel and footwear.

Solo continues to amass awards for her athletic prowess along with being one of top 10 most Googled female athletes of 2011.

When Beckham landed in Los Angeles for his MLS stint with the Galaxy, he was met by hundreds of media and thousands of fans. His new line of underwear for H&M, Beckham Bodywear, launched with similar fanfare online and during Super Bowl XLVI.