Mrs. Shaila Amrute receives Jankidevi Bajaj Award 07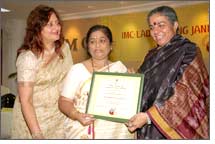 Dr. Vandana Shiva wellknown environmental activist and Director, Research Foundation for Science, Technology and Ecology, presented the 15th IMC Ladies' Wing Jankidevi Bajaj Puraskar 2007 for Rural Entrepreneurship to Mrs. Shaila Arwind Amrute, founder of Utkarsha Mahila Madal of Dapoli, Ratnagiri.

The Award was presented to Mrs.Amrute at an impressive function held at Indian Merchant's Chamber on January 7. A panel of judges headed by Justice C.S.Dharadhikari selected the award winner.

IMC Ladies' Wing President Ms. Minal Bajaj in her welcome address said that the Award was instituted in 1993 to mark the Birth Centenary of late Smt. Jankidevi Bajaj, a Gandhian and freedom fighter, who successfully led the Bhoodan, Goseva, and anti-alcohol movements.

She said the award winner Mrs. Shaila Amrute was instrumental in improving the destiny of thousands of rural women in Dapoli taluka by her contribution to women empowerment, horticulture, and rural education.

Dr. Vandana Shiva , who presented the award, said that Mrs. Shaila Amrute had set an example for women's empowerment and also preservation of environment in rural areas.

She said it was important to preserve the natural biodiversity by using local knowledge and synergies of local people, especially women, who were the custodians of integrity of Indian families.

Citing the spate of suicides by farmers in Vidarbha, she said the main culprit for this tragedy was the scourge of use of pesticide & agrochemicals, bio-engineered seeds, and abandonment of food crops in favour of cash crops like cotton.