Gem-stone auction begins in Yangon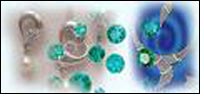 Myanmar is one of the biggest jade and gems producing countries in the world. Its once again holding a major auction, which began yesterday and will go on till 19 January in commercial center, Yangon. The sale will include 1,600 lot of precious stones, comprising of 1,200 Jade lots.

The Union of Myanmar's rulers depend on sales of precious stones. Around 90 percent of world's rubies come from the country and each such auction collects more than US $100 million, which makes it a key source of revenue for the military regime.

Though, the US tightened laws to discourage ruby and jade imports from the army-ruled country, many merchants are expected to attend the expo.

Last year in November the junta sold gems worth $150 million, even though US and Europe stayed away from the auction. US First Lady Laura Bush has urged companies to shun the auctions, as a result of the violence in September. Top jewelers Tiffany, Cartier and Bulgari have firmly refused to sell Myanmar gems.