Three factors help to position Dubai at forefront of events industry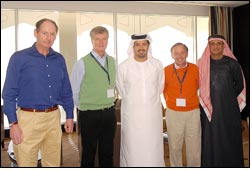 Dubai is the foremost exhibition destination in the Middle East and Africa, spearheading a regional sector with annual revenues of AED 12 billion (US$ 3.37 billion), according to data gathered from the CEOs of some of the world's biggest event management companies.

Delegates assembled at the Dubai International Convention and Exhibition Centre for the inaugural Middle East edition of the International CEO Forum (ICF).

This annual, invitation-only event – supported by Dubai World Trade Centre – brought together top executives from the world's largest event-organizing companies. It was the first time that the forum was held outside of Europe, drawing the highest turnout of delegates in its history.

Research presented at the ICF suggests that enlightened leadership, an enabling business environment and ongoing investment in support infrastructure are three of the major factors that have helped to position Dubai at the forefront of the global events and exhibitions industry.

"The International CEO Forum has traditionally been the most important meeting of minds in the events industry, enabling leading executives to analyse key trends affecting the market, as well as providing unique networking opportunities.

Dubai provided an ideal venue to host this year's event, because the city is rapidly becoming one of the world's most important venues for exhibitions," said PRM Smulders, Organiser of the ICF.

Discussions at the 2008 Forum focussed on the key issues of attracting the optimum number and right calibre of visitors to ensure the success of a trade exhibition.

Globally, this is proving to be a challenge for the industry, given the high volume of alternative business networking channels available and the growing "time poverty" of executives and consumers.

However, Dubai has successfully avoided this trend to date, registering record double digit visitor growth across many of its leading events in 2007.

"One of the major drivers of success in the events sector is the strength of the underlying economy. Dubai is seeing significant expansion of the non-oil sector, as well as a large surplus created by the rise in oil prices, all of which stimulate trade and creates new business opportunities," said Roger Martin-Fagg of Henley Management College, an economist who spoke at the event.