Rajiv Gandhi Udyami Mitra Yojana launched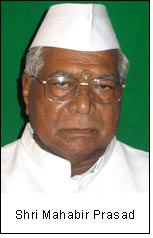 Shri Mahabir Prasad, Minister of Micro, Small and Medium Enterprises launched Rajiv Gandhi Udyami Mitra Yojana. The scheme aims to provide handholding assistance to first generation entrepreneurs through lead agencies or Udyami Mitra, who shall provide guidance to the potential entrepreneurs and help them in completion of various tasks and formalities necessary for the establishment of the enterprise.

Launching the scheme, the Minister said that the Ministry was running many schemes for development of Micro, Small & Medium Enterprises, under which entrepreneurship and skill development training programmes were organised and technical assistance, marketing assistance and financial assistance were being provided.

He said, our further endeavour should be that new enterprises established under these schemes run successfully and play meaningful role in economic development and prosperity of the country. The Minister said, "the youth population of our country was maximum in the world.

If we can give employment to this young labour force of ours, none can stop India from becoming a superpower in the world. For this purpose we need to train the youth thereby converting them into entrepreneurs."

He further stated, "we can generate employment opportunities in every part of the country as well as achieve inclusive growth, taking along all sections of the society only through micro and small enterprises. This is our main aim in the 11th Five Year Plan."