DWTC brings more of the world to Dubai in 2008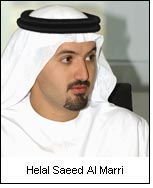 Building on its record performance in 2007 and the surging demand in the events and exhibition sectors, Dubai World Trade Centre (DWTC), the leading venue operator and organiser in the wider region, is looking to showcase more global trade shows in Dubai in 2008.

"Coming off our busiest year in 2007, DWTC is ideally positioned for another signature year, capitalising on the sustained growth in the events and exhibitions sector," said Helal Saeed Al Marri, Director General, DWTC.

"2008 will see the Dubai International Convention and Exhibition Centre (DICEC) and the Airport Expo host an even higher number of leading trade events and international conferences, boosting business tourism for Dubai, as we are becoming increasingly recognised by our international stakeholders as the networking hub that provides the widest outreach to clients and partners across the region," he added.

Preliminary trends indicate encouraging growth prospects across DWTC businesses in 2008, with demand for the DICEC and Airport Expo venue space forecasted to increase to 111 events this year, up from 106 in 2007 across exhibitions and conferences.

With over 22 percent growth in registered venue space across shows so far at DICEC, 2008 is likely to see a significant double-digit increase in average size of exhibitions.

The bookings confirmed for this year, in January alone, are estimated to drive up visitor volumes at the DICEC, surpassing last year's record one million mark.

The high-growth meetings sector has also seen a 50 percent surge over 2007, with over 450 meetings on the books so far, and is expected to attract over 60,000 delegates to the venues this year.

Aligned with His Highness, Vice President of the UAE and Ruler of Dubai, Sheikh Mohammed bin Rashid Al Maktoum's strategic agenda for sector-specific development, the majority of new shows featured in DWTC's 2008 calendar are from high-priority industries such as travel and tourism, manufacturing, pharmaceuticals, aerospace, advertising and media.

The inaugural Tourism Development Projects & Investment Market (TDIM) in January generated such an unanticipated level of demand that the organisers needed to double their initial space requirement.